Venture Visionary Vikas Datt Is Bringing Innovation to The World of Early Stage Investing
4 min read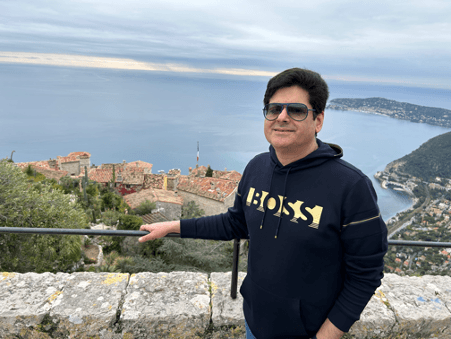 According to recent data, there are over 150 million startups worldwide. This impressive number underscores a burgeoning spirit of innovation and a daring leap into entrepreneurship. Yet, the journey from inception to success is fraught with challenges. The failure rate of startups is 90% globally, a sobering statistic.
Investor and Technologist Vikas Datt of CerraCap Ventures sees these challenges as a call to action. With his Sales & Scale™ model, he offers more than just funding; he provides nurturing and support, which is often the difference between success and failure.
The Expert's Background
Datt is driven to bring new ideas to market to solve the world's biggest challenges. He is currently on the Board of several companies worldwide and a founding Partner of CerraCap Ventures, an early-stage VC firm investing in experimental technologies across healthcare, AI, robotics, and cyber security. He holds over 20 years of cross-functional experience working across multiple countries in areas of venture investment, technology, and business transformation. He manages investments in Singapore, Israel, and the US, helping companies launch to market, expand in new geographies, and solve technology challenges.
The venture capital expert is also a graduate of Delhi University and completed his MBA in
International Business Management from Charles Sturt University, Australia, as Summa Cum Laude. He has successfully delivered talks and training programs on various subjects, including early-stage investments, strategy, and finance.
Vikas Datt and the Sales & ScaleTM model
In his years in the industry, Datt has developed a passion for empowering these startups through tools, training, and mentorship. By providing startups with critical support through his Sales & ScaleTM model, Datt aims to transform the early-stage investment area, ensuring that more startups thrive in the competitive global market.
Datt's innovative Sales & Scale™ model model represents his approach in the venture capital realm. At its core, the Sales & Scale™ model is a five-step framework, specifically, Evaluation, Guidance, Sales, Scale, and Exit, designed to offer more than just financial backing. It encompasses mentorship, guidance, and a strategic roadmap to success.
"A great product is not enough in today's fast-paced business world. You need the right strategy and network to bring it to the forefront," Datt emphasizes. The Sales and Scale™ model offers precisely this, providing startups with a robust framework for sales, marketing, talent, and technology enablement. According to Datt, it's a dynamic approach that ensures rapid sales growth, efficient customer acquisition, and the ability to scale seamlessly.
By integrating the best practices and processes, companies can proactively measure, analyze, and fine-tune their business models, ensuring they remain agile and attuned to ever-shifting market dynamics and customer preferences.
Under the Sales & Scale™ umbrella, CerraCap Ventures bolsters its portfolio companies with an influential network of advisors and a global CXO Council. This council, comprising C-Suite leaders from Fortune 500 companies, acts as a reservoir of wisdom and experience, helping startups identify challenges and craft effective strategies to surmount them. This ecosystem ensures that startups aren't just equipped with the tools but also with the insights and mentorship they need to thrive.
"A startup's journey is filled with potential roadblocks. Our role is to help them navigate these challenges effectively. By connecting startups directly with decision-makers from global Fortune 500 companies, we're not just opening doors; we're building bridges to success", Datt reflects. In an industry where many startups struggle to find their footing, Datt's Sales & Scale™ model stands as a solid foundation, illuminating a path to sustained growth and success.
A Future Full of Possibilities
Datt and CerraCap Ventures currently manage over $100m and have invested in over 30 companies ranging from AI to cyber security, biotech, and others. But Datt is up for more. Datt believes that an investor's real value is not just capital but the wisdom of experience, insights from past successes and failures, and a commitment to seeing the venture through its highs and lows. He believes this holistic approach to investment sets apart fleeting successes from enduring legacies.
Datt continuously engages in close talks and collaborations with different investors, universities, and accelerators to broaden his network and learn how he can improve strategies for nurturing startups.
Drawing from his vast experience, Datt and his Sales & Scale™ model is a perfect example of fostering growth and ensuring startups are equipped for success.
About Author