Tecno Pova 5 Pro review: Cool style quotient unlocked
6 min read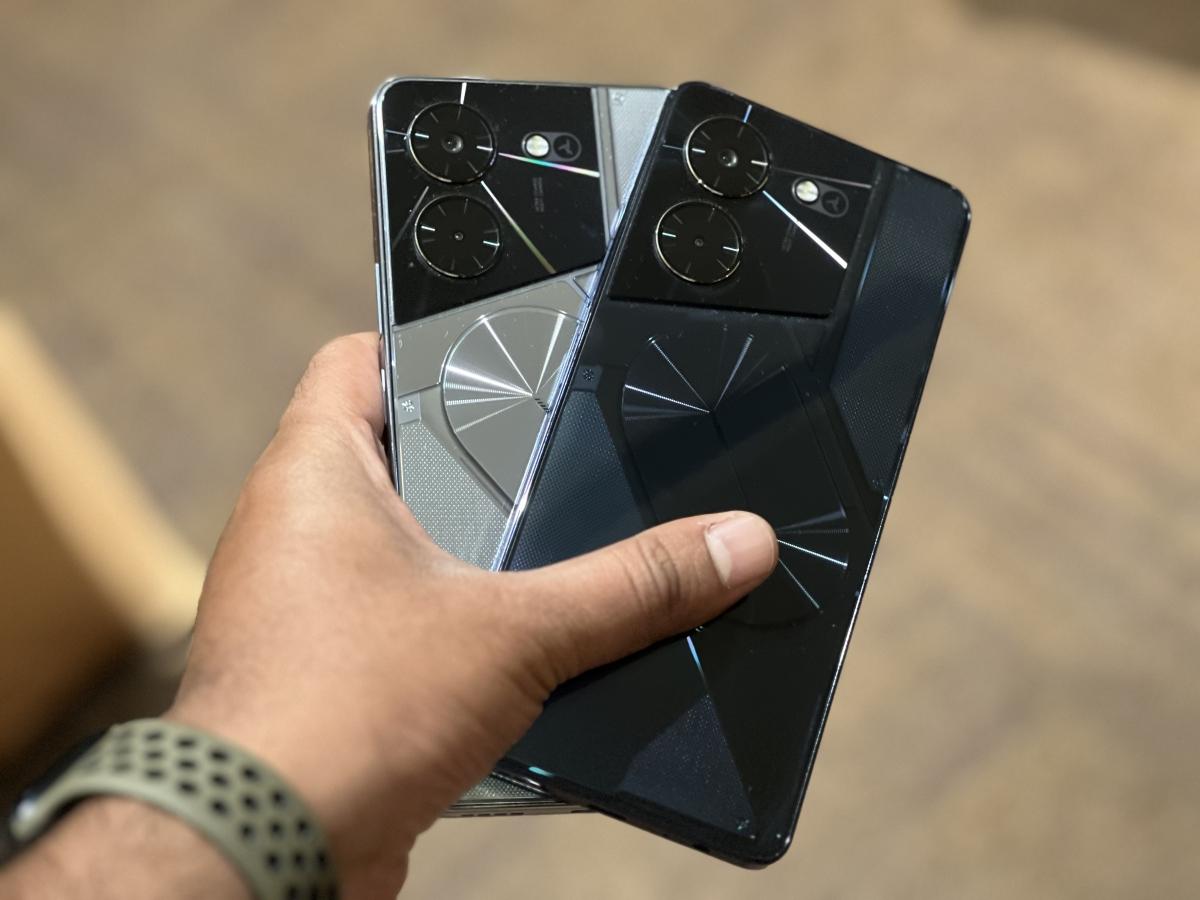 In a world saturated with smartphones, Tecno Pova 5 Pro stands as a disruptor. Its design is not just unique but youthful, especially given its price point. There's a distinct resemblance, but Tecno Pova 5 Pro manages to carve its own niche thanks to its budget-friendly nature.
Launched in India with a price tag of Rs 14,999, the Pova 5 Pro makes quite a dent in the budget smartphone space. It is strongly positioned against the likes of Redmi Note 12, Samsung Galaxy M14 and other sub-Rs 15K phones out there. But does it have what it takes to sway brand-loyal customers? Let's find out.
TECNO POVA Pro 5G: Key specs
Display: 6.78-inch FHD+ Dot-in Display, 120Hz refresh rate

Camera: 50MP+AI Dual Camera, f1.6 Aperture, dual LED flashlight

Selfie Camera: 16MP, f2.0

Storage: 256GB/128GB

RAM:16GB RAM

Battery: 5000mAh with 68W fast charging

Special Features: 3D textured design with Arc Interface, Dual Stereo Speaker Panther Game Engine 3.0, 10W reverse charging

CPU: MediaTek Dimensity 6080 6nm Processor

Colours: Dark Illusion, Silver Fantasy

Price: Rs 14,999
Design and display
Tecno Pova 5 Pro seamlessly fuses a 3D textured design with an Arc Interface, which lights up the back panel in a cool way. The back of the device showcases a captivating arrangement of four LED strips. This unique arrangement lends the phone an unmistakable futuristic aura. There's a coil-style decoration gracing the surface, which adds a tactile mechanical texture. This concoction results in a mesmerizing multi-color backlight that dances to the rhythm of music, incoming calls, notifications, and boot sequences. This is practically the biggest USP of Pova 5 Pro, and easily out-shadows the rivals.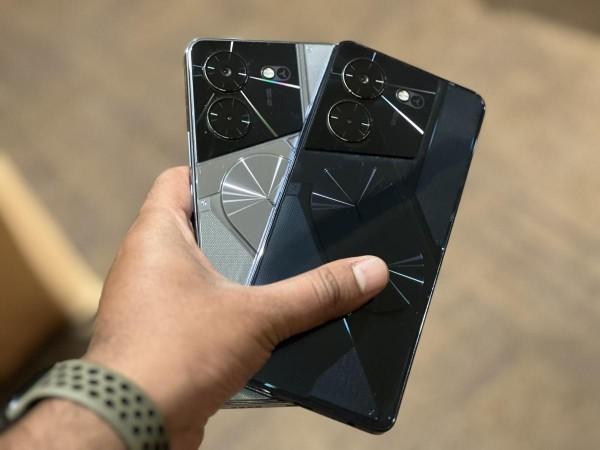 At first touch, the phone feels substantial in hand, largely due to its generous screen real estate. This ample space, however, proves to be a boon for various tasks – from media consumption to gaming and browsing.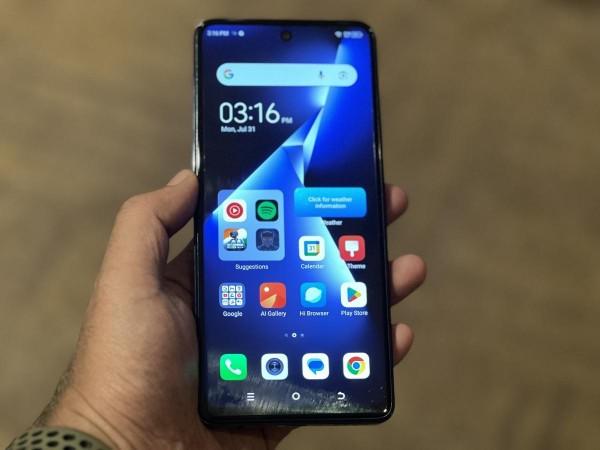 While the polycarbonate back panel is prone to fingerprints, a simple back cover neatly resolves this issue. The sharp aesthetics reminded us of the Asus ROG phone-series, which is a gaming-centric series and Tecno has done a great job at offering something so similar at such a disruptive price point.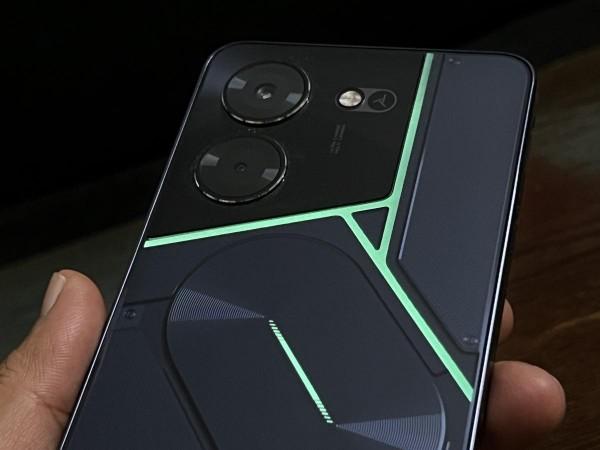 Notably, the inclusion of a 3.5mm headphone jack is a boon for gamers. In the world of gaming, wired headphones reign supreme due to their lower latency compared to Bluetooth headsets. The Pova 5 Pro's dual-speaker setup further enriches the experience, ensuring immersive audio.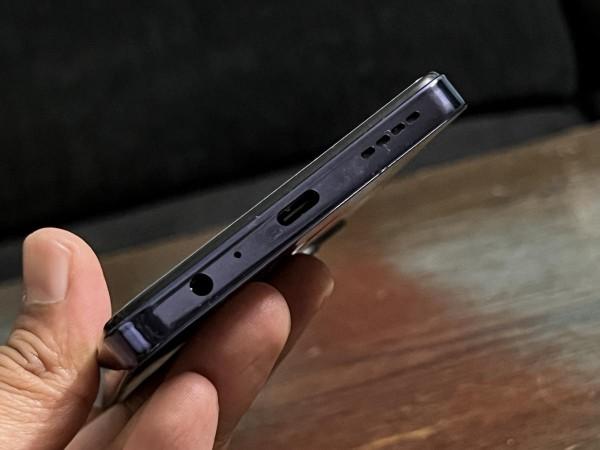 The fingerprint sensor is mounted on the power button, which is flattened to the level of the frame making it hard to locate by touch. Even the volume buttons, placed just above the power/lock button are not protruding enough to be identified easily.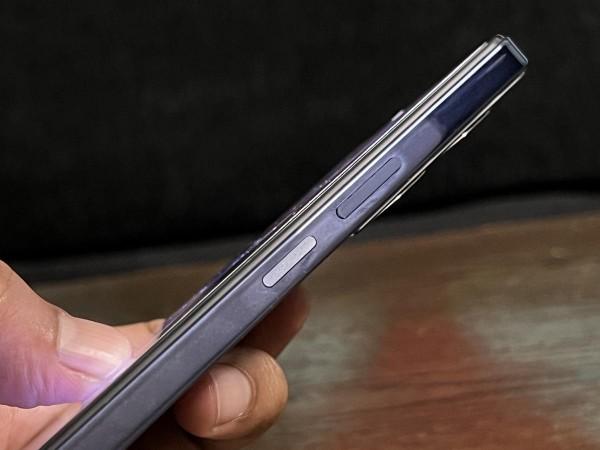 There's a large 6.78-inch display with Full HD+ resolution and 120Hz refresh rate. The display can get bright enough to be used even under bright sunlight, but the colours are not as great. Users with an eye for detail will feel a washed out effect in high-graphics games or high-resolution videos. It's not the best display out there, but gets the job done. The touch response is decent and works as intended.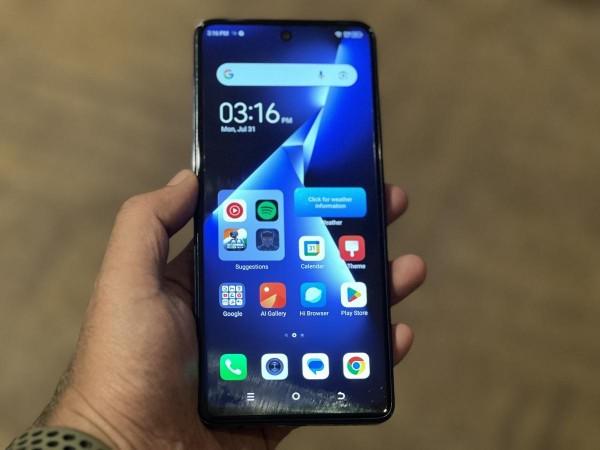 Camera
The camera system of the Tecno Pova 5 Pro is a mixed bag. While the cameras are decent, they tend to suffer from excessive artificial processing. The viewfinder might promise one thing, but the post-processed image often delivers something entirely different. The colors, particularly in ambient and low lighting, can be quite off, but the device redeems itself with commendable daylight shots. The camera algorithms are a hit-and-miss affair, leaning towards the "hit" side more often than not.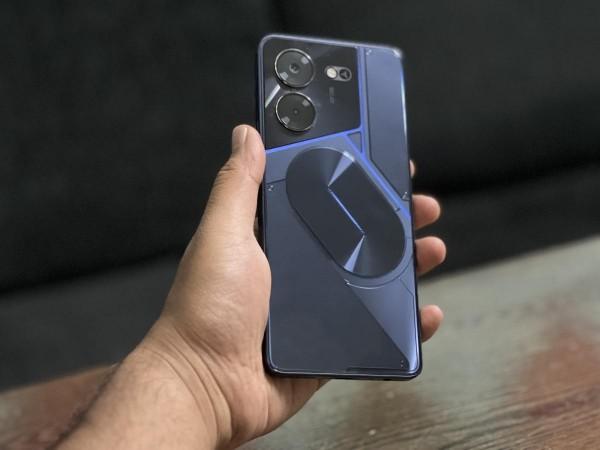 A notable highlight in the camera setup is the inclusion of a 50MP sensor, a considerable asset for a gaming-oriented phone. This sensor manages to produce decent photos, showcasing commendable colors under good lighting conditions. Some users might even appreciate the Beauty cam functionality.
However, it's a tad disappointing that the Tecno Pova 5 Pro lacks 4K video recording capabilities. Still, considering its price point, the camera setup serves well for daily recording and sharing needs.
Check out some camera samples below:
1/10
Tecno Pova 5 Pro camera samplesIBT

Tecno Pova 5 Pro camera samplesIBT

Tecno Pova 5 Pro camera samplesIBT

Tecno Pova 5 Pro camera samplesIBT

Tecno Pova 5 Pro camera samplesIBT

Tecno Pova 5 Pro camera samplesIBT

Tecno Pova 5 Pro camera samplesIBT

Tecno Pova 5 Pro camera samplesIBT

Tecno Pova 5 Pro camera samplesIBT

Tecno Pova 5 Pro camera samplesIBT
Performance
Powered by MediaTek Dimensity 6080 processor, this device delivers decent performance. It has up to 16GB RAM and 256GB ROM, accommodating your multitasking needs. We tested the phone with multiple apps and it seemed to know its way around. But there's a noticeable lag while launching apps and some glitches with back and home gestures.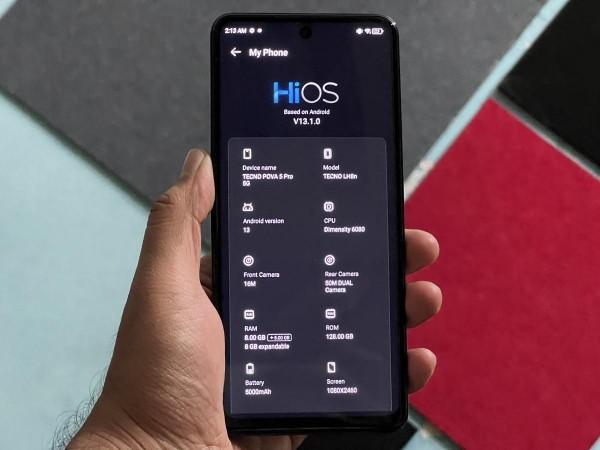 On the software front, Tecno Pova 5 Pro goes the extra mile. Admittedly, the Tecno Pova 5 Pro isn't free of bloatware. Yet, amidst this software clutter, lies an array of customization options that prove quite valuable. The LED Arc interface, for instance, can be tailored to suit individual preferences, offering ample room for experimentation. And even if you decide to switch it off, the rear design still retains a certain charm.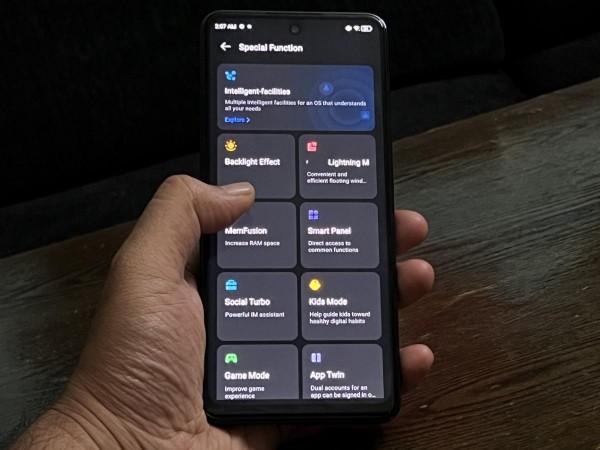 The Game Space feature is a handy hub for quick access to gaming-related functions and performance modes. The Message Barrage notification in Game Space gives important messages even during intense gaming sessions.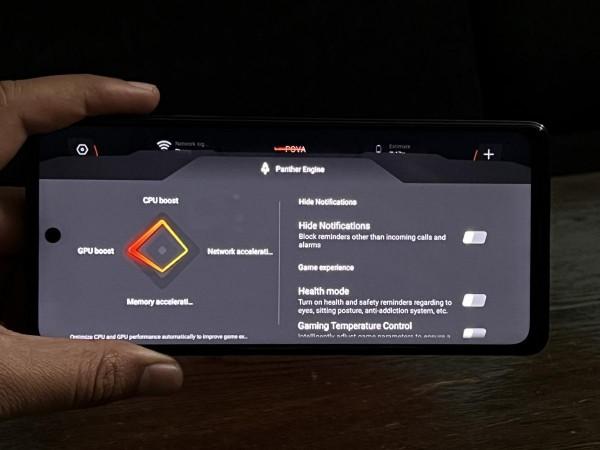 But the LED light on the back panel is deeply rooted into the phone. It has an ambient light during music playback, and even syncs with BGMI for a vivid RGB gaming experience. That is something cool to flaunt. It brings several gaming-oriented features to the table without requiring the steep investment associated with premium gaming models. But what's interesting is despite the LED show, the phone didn't heat to an unbearable point, even during gaming sessions. The Large VC cooling technology keeps temperatures in check, ensuring optimal performance.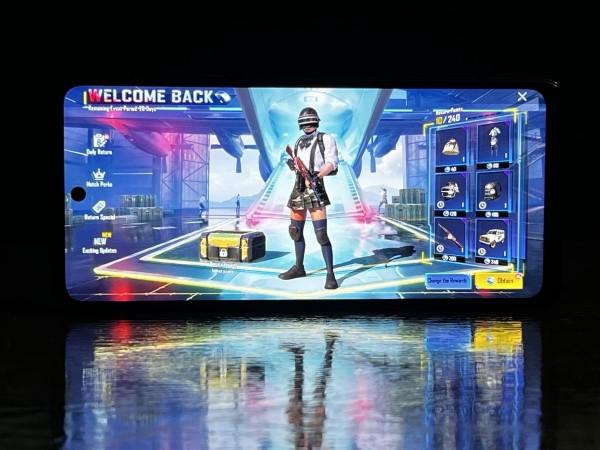 Battery
Tecno Pova 5 Pro's charging prowess is nothing short of impressive, delivering a 50% battery charge in just 20 minutes. This is another strong USP, one that even surpasses the visual appeal. Having a 68W fast-charging tech at this price point is remarkable. The phone even gets its own adaptor in the box, so you don't have to spend extra.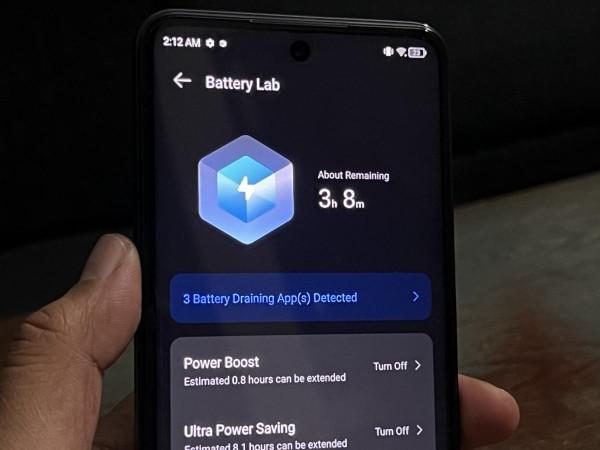 In order to fully charge the phone's 5,000mAh battery, it would take less than an hour. Once charged, the phone can last a whole day, with your regular usage of apps, media, music and a bit of gaming too. But that's not even the best part. Tecno offers what it calls Bypass Charging technology, which is a phenomenal feature in the long run. What it does basically is the power is supplied directly to the phone, bypassing the battery. This saves the battery cycles, which often leads to lower battery life over time. The immediate benefit of this is that there is no heat generation during the battery charging. This feature is ideal for gamers, who can now plug their phone in and go on their gaming marathons without fearing about damaging the battery.
Verdict
Tecno Pova 5 Pro cannot be ignored despite the saturated budget smartphone race. Its exceptional design, gaming performance, and phenomenal battery setup make a strong statement at this price point. This phone is a testament to the fact that distinctive style and advanced features need not come at an exorbitant cost. If you want a really affordable gaming phone that can keep up with your marathon sessions, Pova 5 Pro is built just for that. The LED Arc interface is just an icing on the cake. The cameras and the display could've been better, but at this price point, it is hard to complain.
About Author