"Samsung Galaxy Z Fold 5 review: A sublime evolution of foldable excellence
9 min read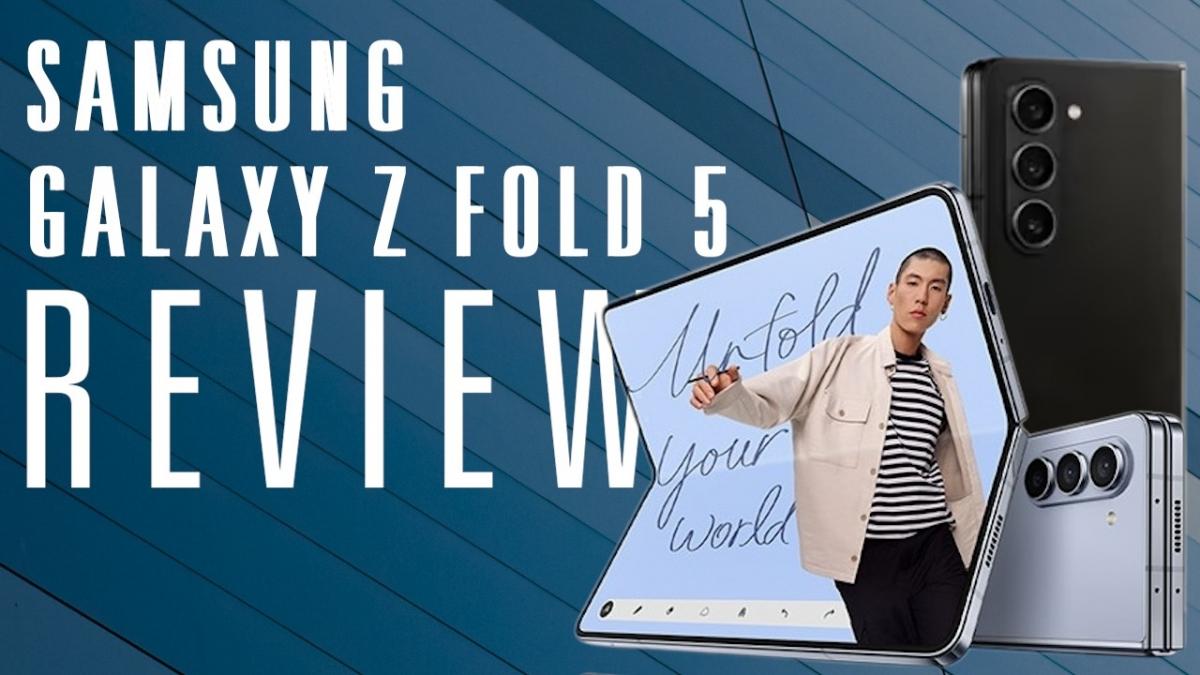 Samsung's dominance in the smartphone space is well noted and documented in quarterly reports. But one particular category where it excels is the foldable smartphone arena, where it doesn't have its biggest rivals like Apple and Xiaomi, yet. Foraying into the niche as early as 2019 gives Samsung the edge no other smartphone maker has. In 2023, Samsung's Galaxy Z-series has perfected the foldable tech to the consumers' desires. The Galaxy Z Fold5, which commands a following of its own, has upped the game, surpassing the Fold4 on many fronts. But is it time for you to make the switch to a foldable smartphone? Let's find out with the Galaxy Z Fold 5 review.
Samsung's 2023 foldables, the Galaxy Z Fold 5 and Flip 5 are going on sale in India on Wednesday, August 18. If the Fold 5 has been on your wishlist, here's our review to help you make your decision. 
Disclaimer: Samsung India sent us the the Galaxy Z Fold 5 for review purposes. Its configuration is 12GB+256GB in Icy Blue shade. The phone is OneUI 5.1.1 based on Android 13.
Key specs at a glance
Display: 7.6-inch QXGA+ Dynamic AMOLED 2X, Infinity Flex Display, ARR

Cover display: 6.2-inch HD+ Dynamic AMOLED 2X Display, ARR

Rear camera: 50MP wide-angle (OIS, f.18) + 12MP ultra-wide (f/2.2) + 10MP telephoto (3x)

Cover camera: 10MP f/2.2

Under display camera: 4MP f.18

CPU: Qualcomm Snapdragon 8 Gen 2

RAM: 12GB

Storage: 256GB, 512GB, and 1TB

Battery: 4,400 mAh

OS: OneUI 5.1.1, based on Android 13

Weight: 253g

Add-ons: Fingerprint sensor, IPX8, Gorilla Glass Vitus 2
Pricing
Samsung Galaxy Z Fold 5 starts at Rs 154,999 for the base model with 256GB storage and goes on to Rs 164,000 for 512GB and Rs 184,000 for the high-end 1TB model. The phone comes in five shades of Icy Blue, Phantom Black, Blue, Gray and Cream.
Design and display
As we noted in our first impressions, Samsung Galaxy Z Fold 5 arrives in a sleek, flat box, a departure from the norm, thanks to the omission of the adaptor, typically a space-consuming component. Notably, Samsung's unwavering commitment to sustainability shines through in the packaging, meticulously crafted from recycled materials, devoid of plastic. The Galaxy Z Fold 5's box is proudly fashioned from 100 percent recycled paper.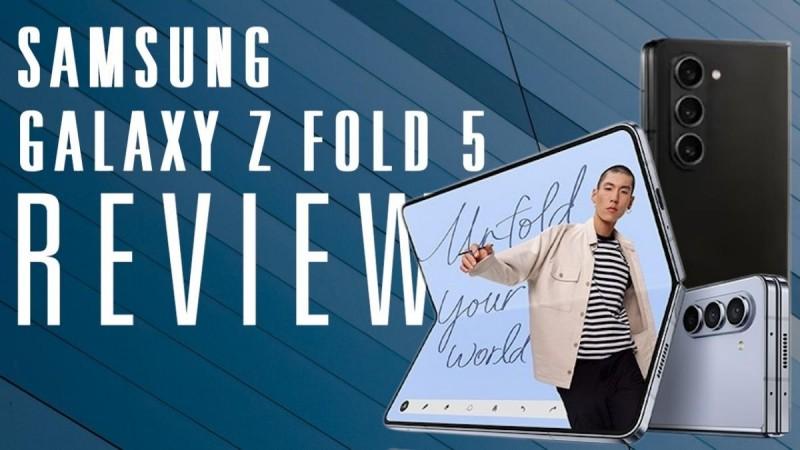 Beyond the packaging, it's imperative to acknowledge Samsung's substantial strides towards sustainability within the device itself. The rear glass deco film incorporates 80% recycled PET, while the sub window and back glass boast 22% recycled glass. Even the display connector cap harbors 20% recycled ocean-bound plastic. These conscientious efforts underscore Samsung's commitment to a greener planet.
With the initial focus on sustainability, delving into the Galaxy Z Fold 5's design is compelling. Upon unboxing, the familiarity of the Fold 4's aesthetics becomes evident. The Galaxy Z Fold 5 embodies a trimmer, lighter form, rendering it more user-friendly. Remarkably, the Galaxy Fold 5 weighs an astonishingly light 253 grams, a noteworthy feat for a foldable device.
The hinge, a pivotal element of any foldable, emerges as a game-changer for the Galaxy Z Fold 5. The ingenious Zero Gap Flex Hinge crafts an illusion of slenderness, distinct from the Fold 4, while preserving aesthetic allure. The hinge's seamless integration is demonstrated as the phone rests flat when unfolded, leaving virtually no gap between screens upon folding. A feature ardently sought by consumers, and Samsung delivers it with finesse.
1/2
Samsung Galaxy Z Fold5 reviewIBT

Samsung Galaxy Z Fold5 reviewIBT
The Galaxy Z Fold 5 boasts an aluminum frame that complements the elegant Icy Blue hue, while bestowing added durability. Its IPX8 certification ensures water resistance, while the Victus 2 glass protection wards off scratches, though prudence in handling remains a worthy practice.
Transitioning to the display, the 6.2-inch HD+ Dynamic AMOLED 2X cover screen offers a smooth operation through its adaptive refresh rate. However, the true gem resides in the magnificent 7.6-inch QXGA+ Dynamic AMOLED 2X Infinity Flex main display. Operating at an adaptive refresh rate of 120Hz, the display's brilliance captivates, offering unparalleled outdoor visibility with brightness peaking at 1750 nits. We were able to use both the displays under bright sunlight without any issue. Though handling the cover display for most tasks is more comfortable, the main display certainly added more value in productivity sessions or multi-tasking.
The cover display still exhibits minimal bezels, a missing under-display camera and the presence of bezels hardly detract from the experience, particularly for those who favor Dark Theme for most apps.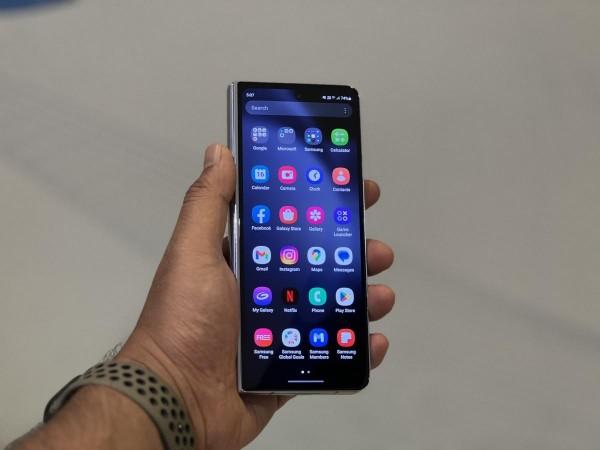 The main display's notable feature lies in its improved Taskbar. Enabled through Settings > Display, this feature enhances multitasking, accommodating up to four recent apps in the non-docked section. The Flex Mode stands out as a remarkable addition, transforming the Fold 5 into a versatile mini laptop, truly embodying practical innovation.
Retaining familiar physical buttons and fingerprint sensor integration, the Fold 5 maintains its user-friendly attributes. The USB Type-C (3.2 Gen 1) port resides at the bottom, while stereo speakers on top and bottom further enrich the experience in unfolded mode.
Camera
Camera enthusiasts may recognize the familiar configuration, as the Galaxy Z Fold 5's camera system mirrors that of its predecessor. The rear camera trio features 50MP+12MP+10MP, complemented by a 10MP cover camera and an additional 4MP main display camera. While unchanged, these sensors provide satisfactory results for most users. But if you're in for the cameras, you may just have to wait a bit longer, until Samsung comes up with its 2024 edition of Galaxy S20-series or simply go with the S23 Ultra.
Though there's the same camera setup we've seen in the Fold 4, we could notice the shorter shutter speeds and night mode captures. There's also some mild changes to the way an image is processed, but not quite evident unless you place photos shot by both the phones side by side.
Coming to the camera performance itself, the phone doesn't disappoint. The new image signal processor and some software tweaks do make up for the repeated hardware choice. The photos shot are lively, bright and as expected punchy. In bright daylight, the photos come out great, the primary sensor being capable of taking the best shots. The end results present with great white balance and controlled exposure and less noise. The wide angle lens also manages to bring in all those details in a well-lit setting. At 3x optical zoom, to my surprise, offers lovely details, colour saturation, exposure and dynamic range.
Even in low light, the details are retained without colours losing much of their flavour. Noise is noticed in the darker areas of the photos shot in dark scenes, but it still manages to pull a decent job. We were quite happy with what the Fold 4 did with its cameras, and the Fold 5 doesn't disappoint either. But it would've been great if Samsung had upped its camera game for the Fold 5, especially when there's a Rs 1.5 lakh price tag in question.
Portraits come out real nice. Edge detection is accurate, more in daylight and almost accurate in ambient lighting. Low-light portraits can work if you're not too hell-bent on picking up on those details. As for selfies, there are two options. The 10MP camera on the cover screen remained our first priority, with the 4MP under-display camera in the main screen served mostly for video calls.
Take a look at the photo samples below:
1/7
Samsung Galaxy Z Fold5 camera samples: Portrait modeIBT

Samsung Galaxy Z Fold5 camera samples: Portrait mode in ambient lightIBT

Samsung Galaxy Z Fold5 camera samples: Night modeIBT

Samsung Galaxy Z Fold5 camera samples: Ultrawide night modeIBT

Samsung Galaxy Z Fold5 camera samples: Night modeIBT

Samsung Galaxy Z Fold5 camera samples: PortraitIBT

Samsung Galaxy Z Fold4 camera sampleIBT
Performance
Under the hood, the Fold 5 gets a performance boost, thanks to its Snapdragon 8 Gen 2 processor paired with 12GB of RAM. Samsung's refined OneUI 5.1.1 interface further elevates the user experience, offering a seamless and intuitive environment for the foldable model. Samsung is flexing its prowess here and we love it.
A noteworthy accolade for the Fold 5 is its inclusion of Qualcomm's top Snapdragon 8 Gen 2 chip from the Galaxy S23 Ultra. Coupled with 12GB of RAM, it is one of the most powerful Android devices available. We could multitask with up to eight apps on screen simultaneously and the phone didn't break a sweat.
Samsung's One UI 5.1, built upon Android 13, allows three apps side by side, unlocking a new world of multitasking possibility. But there are some apps not fully optimised for the landscape orientation, such as Gmail, which is bound to change with the growing popularity of foldables.
If you like customisations, the Fold 5's flexible nature serves that by providing distinct home screen layouts for both the outer and inner displays. The "Flex Mode" panel contributes to an enriched experience, allowing apps to reside in the top half of the screen when folded in an L-shape. It proves particularly useful for video playback, offering playback controls at the bottom half while the video occupies the top. It's like a mini-laptop sitting on the table. But it's not a gimmick. The Fold 5's Dex mode, transforming the device into a full Android desktop computer when connected to a monitor, keyboard, and mouse, is truly remarkable.
1/2
Samsung Galaxy Z Fold5 reviewIBT

Samsung Galaxy Z Fold5 reviewIBT
In case you aren't aware, the Fold 5 guarantees a minimum of five years of software updates from release, inclusive of four major Android version updates and monthly security patches. That is a reassurance Samsung gives with all of its phones and with phones like Fold 5, it makes more sense.
Battery
The battery is definitely improved, albeit slightly. With mixed usage, the phone can last over a day. For this, you can be using both cover and main displays, which is a great feat. With a brighter screen, the battery size has been kept the same at 4,400mAh (same as Fold 4 and Fold 3). Hence, we had some reservations in that department. The the efficient processor manages to pull off a miracle here. Samsung Fold 5 managed to deliver battery performance better than its predecessor.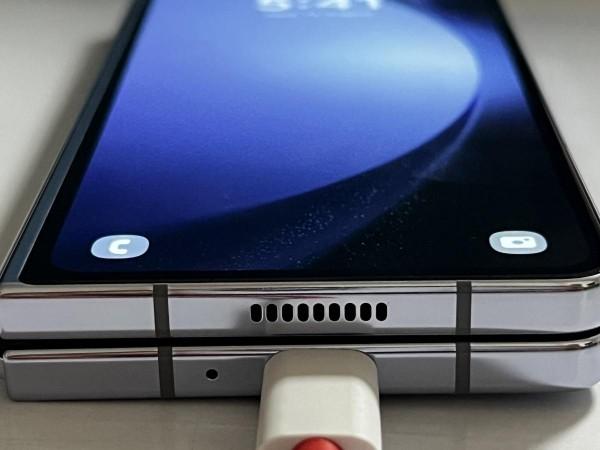 We got a full day's worth of use (read testing), which involves regular amount of calls, IMs, emails, web browsing, social media and finally a whole lot of camera. Even with all that, the phone didn't die on us one time. That is with the screens set at 120Hz refresh rate and 60-70 percent brightness. Now, if you're usage is moderate, you can easily push the phone to a day and half with a single charge.
Though some improvement is noted in the battery, the charging speeds haven't changed. The phone still supports 25W charging as opposed to 45W in the S23-series. Since there's no power adapter in the box, you can buy one or use an existing one to get 50 percent charge in half an hour. Wireless charging is supported, but it is tiring. To fully charge the Fold 5, you'll need to leave the phone plugged in for one hour or double that if you choose the wireless way.
Final say…
In its fifth generation, the Galaxy Z Fold 5 emerges as a refined masterpiece. With a lighter, sleeker design, it resonates as a matured and well-constructed device. The device's camera capabilities, while largely unchanged from its predecessor, deliver satisfactory images across varying lighting conditions. If camera takes priority in a smartphone, look elsewhere. 
The phone's pricing remains a notable barrier, as the groundbreaking technology driving the folding screen commands a premium. Its delicate nature necessitates meticulous care, distinguishing it from conventional devices. Despite some odds, the Fold 5 reigns as the best foldable device, with its unparalleled performance, enduring battery life, and unrivaled folding display. If you're in the market for a foldable device, the Fold 5 is an easy recommendation.
A combination of phone and tablet, incredibly multitasking capabilities, usable cover screen, stunning large display inside, unparalleled performance, impressive battery life, water resistance, gap-free design when closed, and comfortable to hold. This is what the Samsung Galaxy Z Fold 5 really offers.
About Author