Samsung Galaxy Watch6 Classic review: A "crown" jewel
6 min read
In ancient Greece, circles were seen as representations of divinity and natural balance. Don't know about divinity, the Samsung Galaxy Watch6 Classic's round shape, in its seamless symmetry, strikes a balance between traditional watch design and technology advancement. Having used quite a few smartwatches, Samsung Galaxy Watch6 Classic doesn't come across as boring. For me, it was the rotating crown that made the sales pitch, but the watch itself is more than that.
As covered in the first impressions, the Galaxy Watch6 Classic design is, well, classic. The 47mm dial size is a tad big for my wrist, but looks stunning nevertheless and fits remarkably well. But wearing for long durations can leave an imprint on your hand, especially if you have a desk job that requires resting on your wrist. My view on the design and display remains unchanged, but here's more having used the watch for close to two weeks.
The display, though we spoke about in the previous article, gets special mention here. When Apple said its new Watch Series 9 can get up to 2000 nits of brightness, it was "wow". But then, Samsung Galaxy Watch6 Classic already does that, and boy oh boy, what a beauty this tiny display is. Brightness is not everything a display is gauged by, and Samsung knows that quite well. The Galaxy Watch6 Classic has the brightest display in a watch I've used, and it is colourful too. Reading texts, accessing menus, and checking vitals can be done with ease, even on a bright sunny day. The rotatable crown is just icing on the cake and addictive as hell.
Fidgeting with the crown kind of became my habit in these past few days. I loved the feedback it offers when rotated and the smoothness with which the menu changes on the screen. As much as I loved the crown, I couldn't just clean the smudges off the screen by wiping it on the t-shirt as the crown adds an elevated bezel around the display. To my surprise, the watch didn't pick up a lot of smudges, so it kind of breaks it even. But it is reassuring that the watch gets IP68 rating and the sapphire glass does add a layer of extra protection. But I wouldn't just go crazy with ruggedness tests, if I were you.
During the course of the review, I activated Samsung Pay on the watch and it works great. Simply long press the lower button on the right side to activate Samsung Pay, enter the PIN, tap and voila!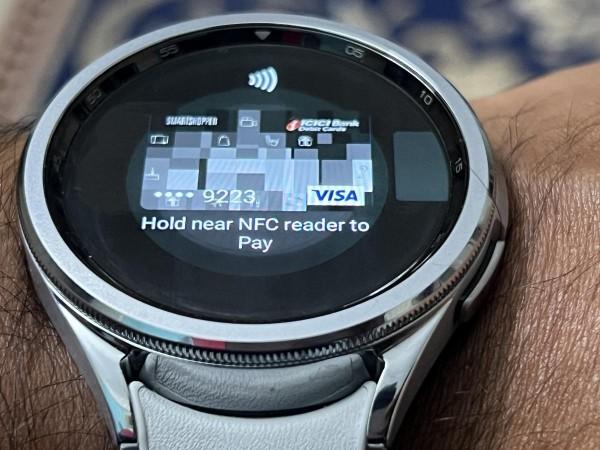 The persons accepting the payment looked at me as if I pulled a rabbit out of a hat. The same button when pressed once can be used for "back" function. The top button can be used for home and double press function can be reassigned for action of your choice. I left it at default for calendar.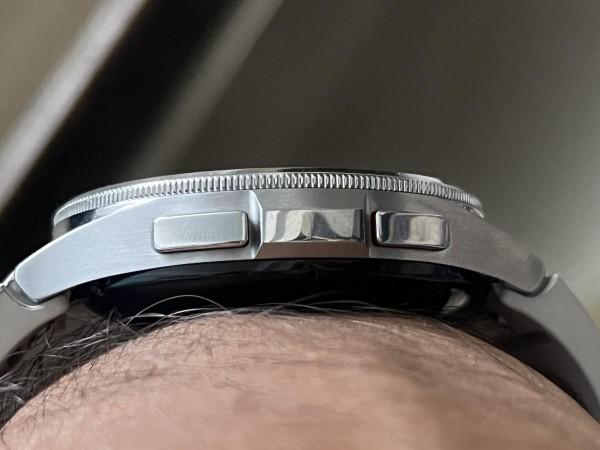 If you're impressed by this, you'll be amazed by what's inside. The Watch6 Classic packs a host of sensors, including accelerometer, gyro, compass, heart rate, barometer, thermometer (for skin temperature) and a 3D Hall sensor. These sensors do their functions as assigned. The heart rate sensor gave the same results as Apple Watch 8, same goes for SpO2. The thermometer works during sleep and keeps a track of variations in skin temperature. I found the sleep tracking feature and heart rate monitoring quite useful. Though Samsung Galaxy Watch6 Classic supports BP and ECG monitoring, the features are not available in India right now. If that's something you really need, Apple Watch is the way to go.
Samsung also has BioActive sensor, which is used to measure the wearer's body composition. It uses the onboard electrodes at the bottom and you need to place your middle and ring finger on the two buttons on side and wait for the results. It will show you lean muscle mass, body fat percentage, water weight, BMI and even basal metabolic rate in few seconds. I wouldn't fully rely on the stats, but it is a nice marker if you're tracking your overall progress.
Sleep tracking is really improved. In one week, the watch will learn your sleep patterns and give suggestions to improve your sleep quality. To make things a little interesting, wearer gets a sleep animal based on how well they sleep. I had seen this feature in FitBit Versa 4, a quite interesting one that is.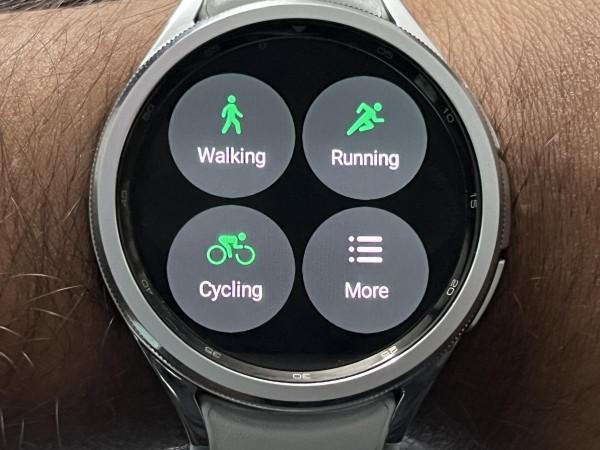 Finally, activity tracking is on point, and supports a variety of activities and sports. Auto-detection works well when I forget to turn on tracking, but it doesn't quite knows when to stop accurately. A manual intervention is suggested.
Seamlessly binding all this up is a well-refined, lag-free and seamless UI. Things have been kept really simple on the wrist, but we wish some stats and functions were added in the watch itself rather than having to go the phone. But the overall experience with the Galaxy Wearable App and the watch menu screen has been positive. If you're feeling left out by Apple's wizardly gesture support in the new Apple Watches, well, Samsung Watch6 Classic does that already, but in a different way. You can twist wrist left to right, bend it up and down, shake the arm bending the elbow — all done twice — to dismiss alerts, quick launch shortcut and answer calls. It is not as elegant as Apple's finger gestures, but we are yet to try the latter. We didn't use this as it wasn't quite feasible.
If you're a fan of watch faces, you'll love what Samsung has in store. The level of customisations, and the collection of watch faces available on this one is literally remarkable. And not just that, the watch faces actually look cool on that display.
Finally, Samsung Galaxy Watch6 Classic's battery life is not a major upgrade from its predecessor, but it's still good. We got two days battery life on a full charge, but without AOD, real-time monitoring for stress and heart rate, one-hour activity tracking and auto brightness setting. Using Always-On Display will cut those hours short, but it's worth it if you're wearing the watch for that special occasion to compliment your outfit.
Verdict
Samsung Galaxy Watch6 Classic is a remarkable smartwatch that tracks your health while looking gorgeous. The rotatable crown is a nice touch to the watch's aesthetics. The performance of the watch is at par with Apple Watch S8, and the two-day battery is a decent offering. Still waiting on the ECG and BP monitoring feature in India, but it has Samsung Pay, unlike Apple Pay, so you win some, you lose some.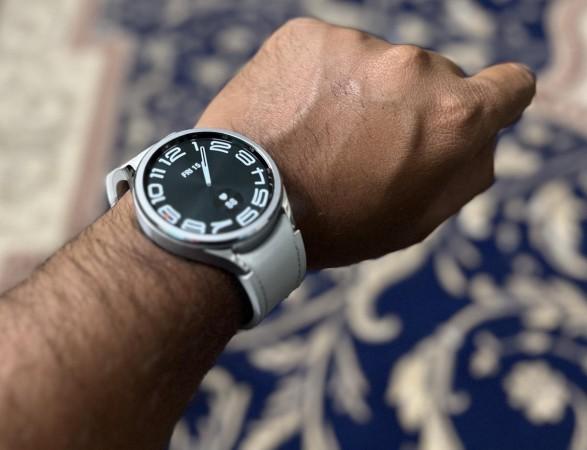 The big, beautiful display is hard to ignore and the eco-leather band is a nice touch. The NFC works well, Bluetooth pairing is seamless, and the UI and app support is well refined. At Rs 43,999 for the 47mm model and Rs 40,999 for the 43mm one is not a cheap deal, but a Galaxy smartphone owner (read flagship models here) can get more out of this watch than a non-Samsung user. If you can get a good package deal with a Samsung phone, this is definitely worth considering.
About Author