OnePlus Nord CE 3 Lite review: Delivering essentials with panache
7 min read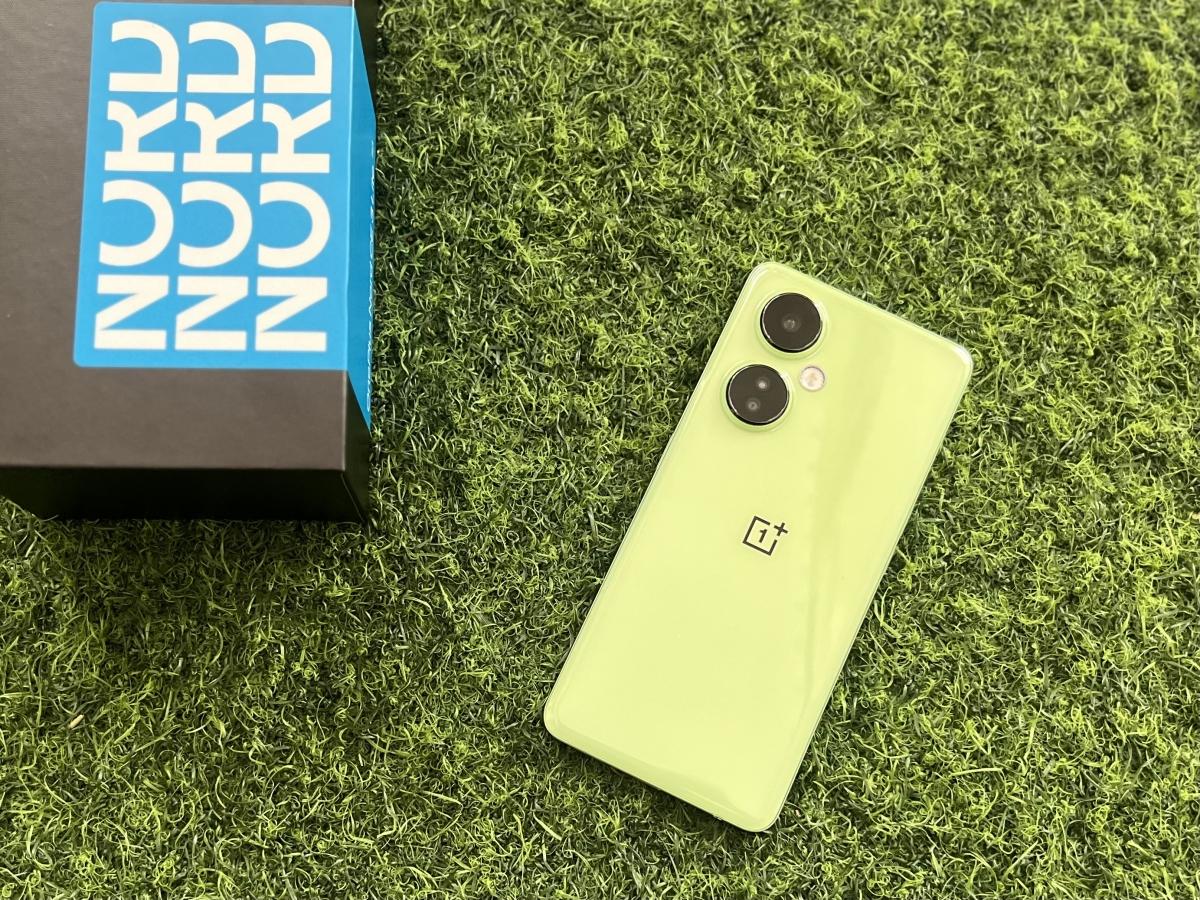 OnePlus is leaving a mark everywhere it sets foot in. After years of consistent growth in the smartphone space, the brand finally forayed into the tablet space. But its budget smartphones are remarkably popular, even more so after its premium phones have gone beyond Rs 50K mark. The latest entrant to the Nord series is Nord CE 3 Lite, which positions itself prominently in the budget-friendly 5G smartphone arena.
Succeeding the Nord CE 2 Lite, the new model gets notable improvements in the camera system, charging and design. Here's our review of the Nord CE 3 Lite, which retails in the sub-Rs 25,000 category. The phone comes in two variants, 6GB+128GB and 8GB+256GB, priced at Rs 19,999 and Rs 21,999.
OnePlus India sent us the Nord CE 3 Lite unit for review purposes. The model we tested has 8GB RAM and 256GB storage, in Pastel Lime hue, and runs Android 13-based OxygenOS 13.1. The device received an update during the course of this review, post which slight improvement in the camera and charging was noticed.
OnePlus Nord CE 3 Lite 5G
Display: 6.72-inch Full HD+, 120Hz LCD panel

CPU: Qualcomm Snapdragon 695

RAM: 6GB/ 8GB

Storage: 128GB/ 256GB, expandable via microSD card

Camera: 108MP main + 2MP macro + 2MP depth; 16MP front sensor

Battery: 5,000mAh, 67W SUPERVOOC charging

OS: OxygenOS 13.1 based on Android 13

Dimensions: 165.5x76x8.3 (6.52×2.99×0.33in)

Weight: 195g

Colours: Pastel Lime & Chromatic Gray
Design and display
OnePlus' design game is quite strong, with a few exceptions. Luckily, OnePlus Nord CE 3 Lite gets the good stuff when it comes to its design. In fact, the new design, though minimal changes are made, is bold. OnePlus has traded the rectangle camera module for two large circular modules, housing the camera sensors. Though unique, it's not odd to see this disruptive design. The rest of the phone is largely the same as its predecessor.
The rear panel in the pastel lime shade looks refreshing and quite premium, to be frank. The panel, being a plastic one, may not match the feel factor with the looks, but it does an excellent job of concealing the plastic material with its glossy finish. On the downside, the glossy finish picks up a lot of smudges and scratches along the way. A transparent case is recommended.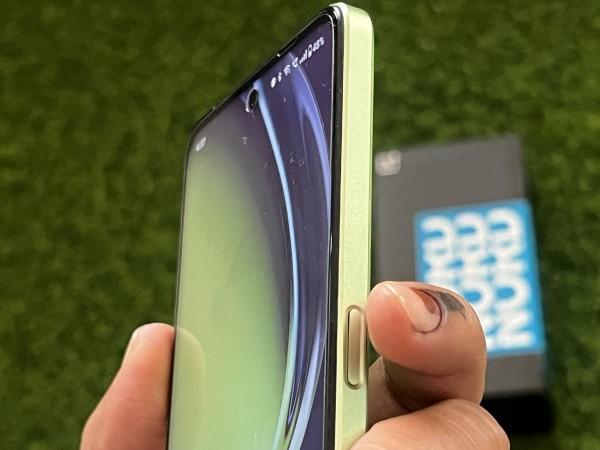 The power button that doubles as a fingerprint scanner is on the right, while the volume rocker and SIM tray can be found on the left. The benefit of the volume rocker being on the left instead of the right side above the power button is that it is easily reachable. At the bottom, there's the USB Type-C button, speaker grille and a 3.5mm headphone jack.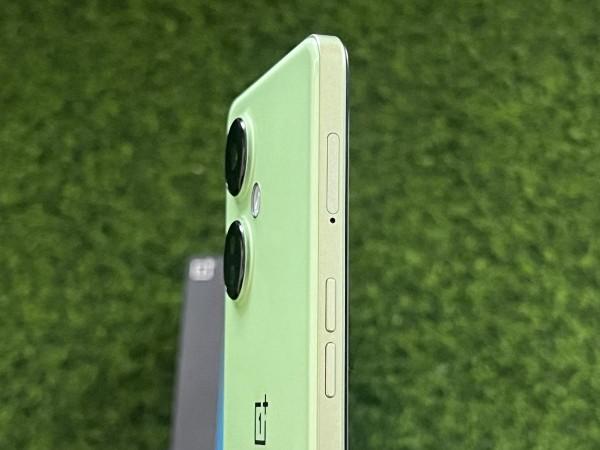 The Nord CE 3 Lite gets a flat display protected by Gorilla Glass. The FHD+ LCD panel with 120Hz refresh rate excited us and delivered most of the time. The display is good enough for all use cases, even while using outdoors on a sunny day. But it's not the brightest, falling behind phones with AMOLED panels in the same price bracket.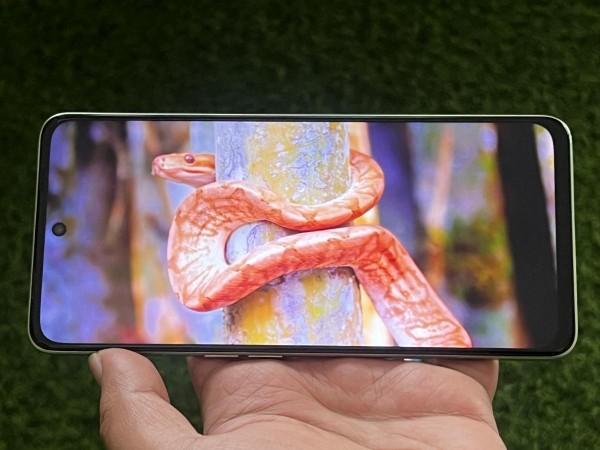 Though the 120Hz refresh rate sounded great on paper, the display strangely didn't feel as smooth. While scrolling through the feeds of Twitter or even the phone's menu, we didn't quite get the feel of 120Hz smoothness. We set the refresh rate at High at all times, which meant it automatically switched to lower refresh rates depending on the apps on the screen, which we assume was the problem. There was no way to choose High as the default refresh rate. If you're upgrading from a 60Hz panel, you won't notice the difference, it'll feel smoother. But having used phones with greater resolution and on AMOLED, we picked up on it. It's not a deal-breaker in our view. The display is still great for consuming media content, browsing through apps and the internet, for games and more.
Camera
OnePlus Nord CE 3 Lite has a triple camera setup, but only the primary 108MP sensor has our interest. The 2MP depth and macro sensors aren't noteworthy additions and do not deliver anything worth mentioning. The missing ultra-wide sensor is a missed opportunity. But all that's compensated with the primary sensor. Well, sort of.
The 108MP shooter can deliver good results, with well-detailed shots in daylight, natural colours and good dynamic range. The shadows were well darkened without much noise and they maintained consistent colour accuracy throughout the frame. Shooting in broad daylight is the best option with the Nord CE 3 Lite.
Some indoor shots can be good, others just acceptable depending on the lighting conditions. For instance, in an indoor restaurant setting with warm lights, the camera tries to compensate by over-sharpening the images and increasing the saturation. Even then, the photos look desirable.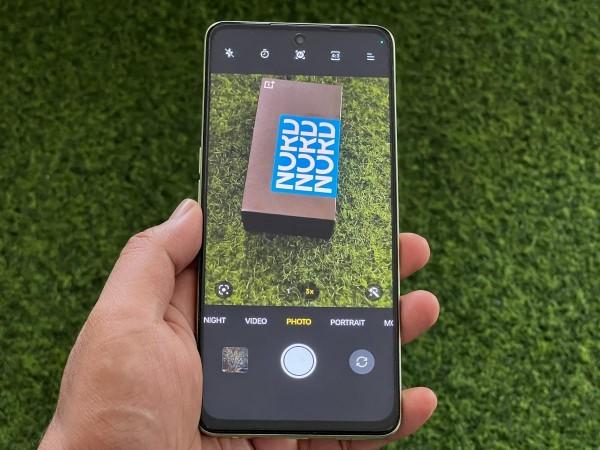 Since the camera offers 3x lossless zoom, it worked best in daylight. But in low light, the results are noisy and colours are all over the place. Even the 1x mode is not able to keep up with the low-light setting. The night mode does little contribution. So as long as you stick to the main sensor and in daylight or well-lit ambience, you'll be just fine.
The phone's 16MP camera on the front produces decent selfies. Without daylight setting, the selfies are also washed out. Of course, you can play with some filters and get desired results, but it's not something you'll be wowed by.
1/13
OnePlus Nord CE 3 Lite 5G camera samplesIBT

OnePlus Nord CE 3 Lite 5G camera samplesIBT

OnePlus Nord CE 3 Lite 5G camera sample: MacroIBT

OnePlus Nord CE 3 Lite 5G camera sample: MacroIBT

OnePlus Nord CE 3 Lite 5G camera sampleIBT

OnePlus Nord CE 3 Lite 5G camera sample: PortraitIBT

OnePlus Nord CE 3 Lite 5G camera sample: PortraitIBT

OnePlus Nord CE 3 Lite 5G camera sampleIBT

OnePlus Nord CE 3 Lite 5G camera sample: 3XIBT

OnePlus Nord CE 3 Lite 5G camera sample: PortraitIBT

OnePlus Nord CE 3 Lite 5G camera sampleIBT

OnePlus Nord CE 3 Lite 5G camera sample: Selfie with and without portrait modeIBT

OnePlus Nord CE 3 Lite 5G camera sample: Night modeIBT
Performance
OnePlus Nord CE 3 Lite is packing a Qualcomm chipset. The Snapdragon 695 is a decent performer and delivered just that in the Nord CE 3 Lite. Our day-to-day operations were handled with ease, but putting too much pressure meant some burnout. This is particularly noteworthy for gamers, who'd be better off with OnePlus' premium range or the higher-end Nord phones for that flawless gaming performance. Just not this "Lite" version as the name itself suggests. We did run some casual games, and with mild graphics, the phone is capable of gaming. It's just not CoD-capable.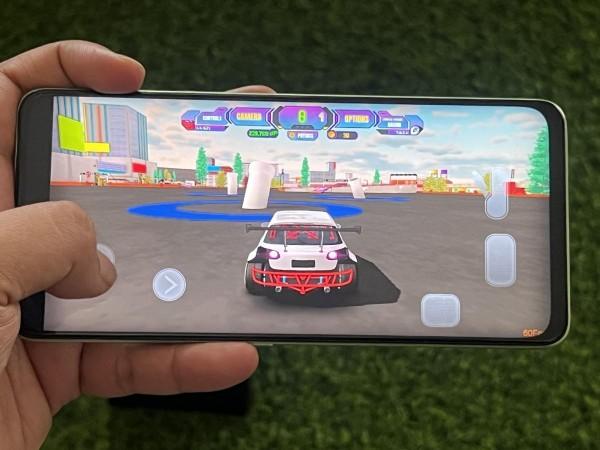 We regularly switched back and forth between 3-4 apps, and it seemed to handle it well. Though there were some stutters here and there, it's just part and parcel of a budget-friendly phone. On the overall experience, you'll the Nord CE 3 Lite just capable enough to get your essential tasks out of the way.
The fingerprint sensor is mounted on the side, which worked as intended. But we did encounter some instances where the biometric sensor didn't respond to touch. It was random and rare.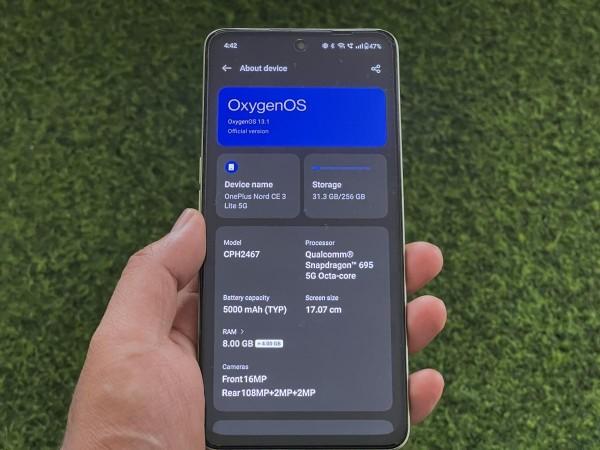 On the software front, it runs OxygenOS 13.1, which doesn't feel much different from ColorOS. There are a whole lot of customisation options, where you get to choose from different themes and work with features like Split Screen, and gestures for shortcuts. The OxygenOS also keeps the bloatware at a minimum, which is a good thing.
The speaker is great for watching videos on the go, and it can get extremely loud with volume levels set at 200%. We noticed issues with calling, where the person on the other end was unable to hear us on more than one occasion. Though we tried with different SIMs, the network issue persisted. We haven't had the issue since the update, but it's yet to be tested thoroughly.
Battery
OnePlus Nord CE 3 Lite is powered by a 5,000mAh battery, which is a saviour. Clearly, OnePlus gives the competition a tough fight with its battery setup. Though it packs a big enough battery to get users by the day, it also has fast charging that lives up to its reputation.
With casual use, the phone can easily last close to two days. But if you watch a lot of videos or play games, expect a full day's worth of battery in any case. The battery is a strong USP, easily one that makes it easy to recommend.
With that long-lasting battery comes 67W fast-charging support, which can power up the phone in no time. On most days, we charged the phone for just 30 minutes and it would be sufficient for a whole day with some juice left. To go a full 100 percent, it will take less than an hour. So yes, if the battery is something you're really looking up to in your phone, look no further than OnePlus Nord CE 3 Lite.
Verdict
OnePlus Nord CE 3 Lite has some great qualities, but it is not devoid of flaws. You must realise that this is a budget phone and doesn't have that "Never Settle" mantra rooted into the veins. One of the biggest reasons why the Nord CE 3 Lite makes sense is the bold design and excellent battery setup. Besides this, if you're eager to jump on the OnePlus bandwagon, this may be your way in, but you don't get the true taste of the OnePlus Experience. OnePlus Nord CE 3 Lite doesn't have the best camera setup even for its price range, particularly the secondary and third sensors. A lot is riding on the primary camera, in the ideal setting that is.
About Author