Jio AirFiber launching in India on Sept 19; here's what you need to know
3 min read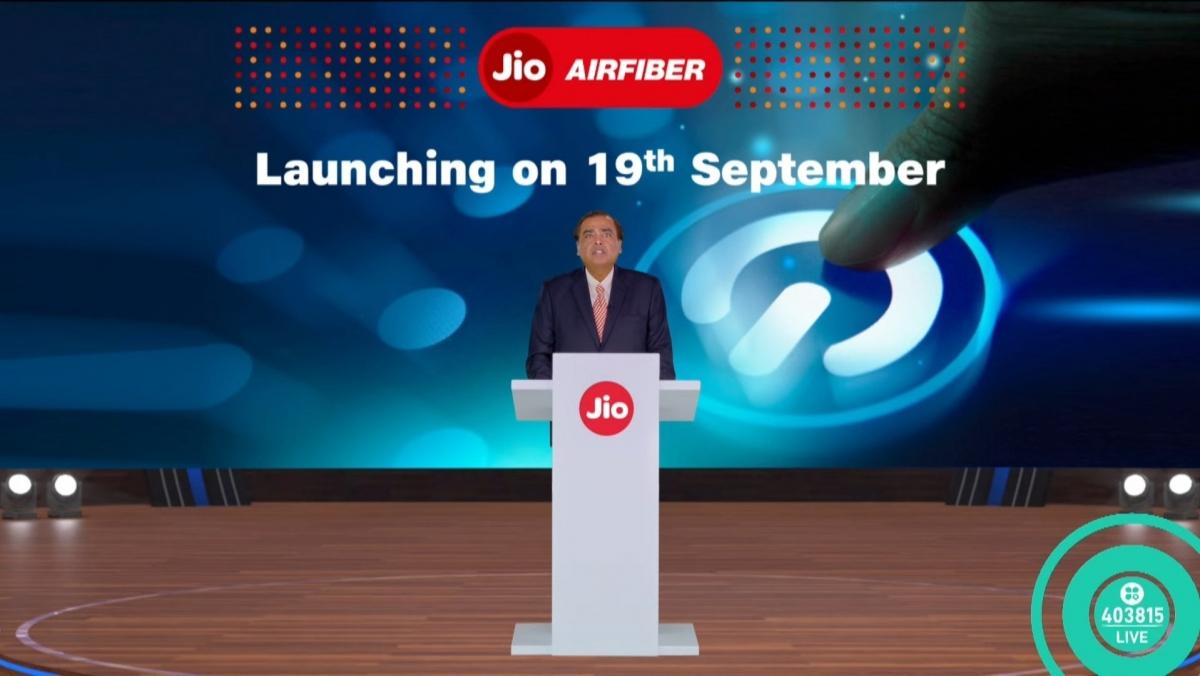 In a bold move set to reshape the landscape of home and office connectivity, Reliance Jio has announced the launch of yet another groundbreaking wireless internet service, Jio AirFiber. Mukesh Ambani, the Chairman and Managing Director of Reliance Industries, made the announcement during its 2023 Annual General Meeting. With a planned launch date of September 19th, 2023, coinciding with the revered festival of Ganesh Chaturthi, Jio AirFiber is poised to usher in a new era of high-speed, wireless internet in India.
The concept of Jio AirFiber first surfaced during the company's 45th Annual General Meeting last year. Promising speeds akin to traditional fiber-optic connections, the service seeks to redefine how users experience the internet. Taking advantage of advanced wireless technology, Jio aims to deliver internet capabilities that are both high in bandwidth and low in latency. This will empower users with a seamless online experience, suitable for activities ranging from video streaming and gaming to video conferencing.
One of the standout features of Jio AirFiber is its simplicity. The service functions wirelessly, requiring nothing more than plugging it in and turning it on. This effortless setup instantly transforms homes and offices into personal Wi-Fi hotspots, all powered by the blazing speeds of True 5G connectivity. The real advantage of Jio AirFiber is in its ability to bring fiber-like speeds to users, without the need for cumbersome wires and cables.
But speed isn't the only advantage Jio AirFiber brings to the table. The service comes with a suite of features designed to enhance the internet experience while ensuring safety and control:
Parental control: Jio AirFiber is equipped with robust parental control tools, allowing users to effectively manage and regulate content accessible on their network. This is a crucial feature for families seeking to ensure a safe online environment for their loved ones.

Wi-Fi 6: Embracing the cutting-edge Wi-Fi 6 technology, Jio AirFiber ensures enhanced and efficient connectivity for all devices connected to the network. This future-proofing feature guarantees optimal performance even as the number of connected devices grows.

Seamless integration with Jio STB: Jio AirFiber seamlessly integrates with the Jio set-top box, granting users the ability to merge high-speed internet and television viewing on a unified network.

App-based management: Streamlining the user experience, Jio AirFiber offers easy installation and management via an intuitive app. This makes controlling and customizing your network settings a hassle-free endeavor.

Network control: Jio AirFiber provides users with the power to take charge of their network. The service enables users to block specific websites or devices, ensuring a secure and tailored online experience that aligns with their preferences.
As the countdown begins to the launch of Jio AirFiber on September 19th, 2023, anticipation grows among consumers, tech enthusiasts, and businesses alike. The introduction of this wireless internet service promises to reshape the connectivity landscape and empower users to embrace the digital future with unmatched speed, control, and convenience while bringing a new disruption in the competitive space.
About Author