BenQ V5000i is meant for homes; defies preconceived notions about projectors [First Impressions]
5 min read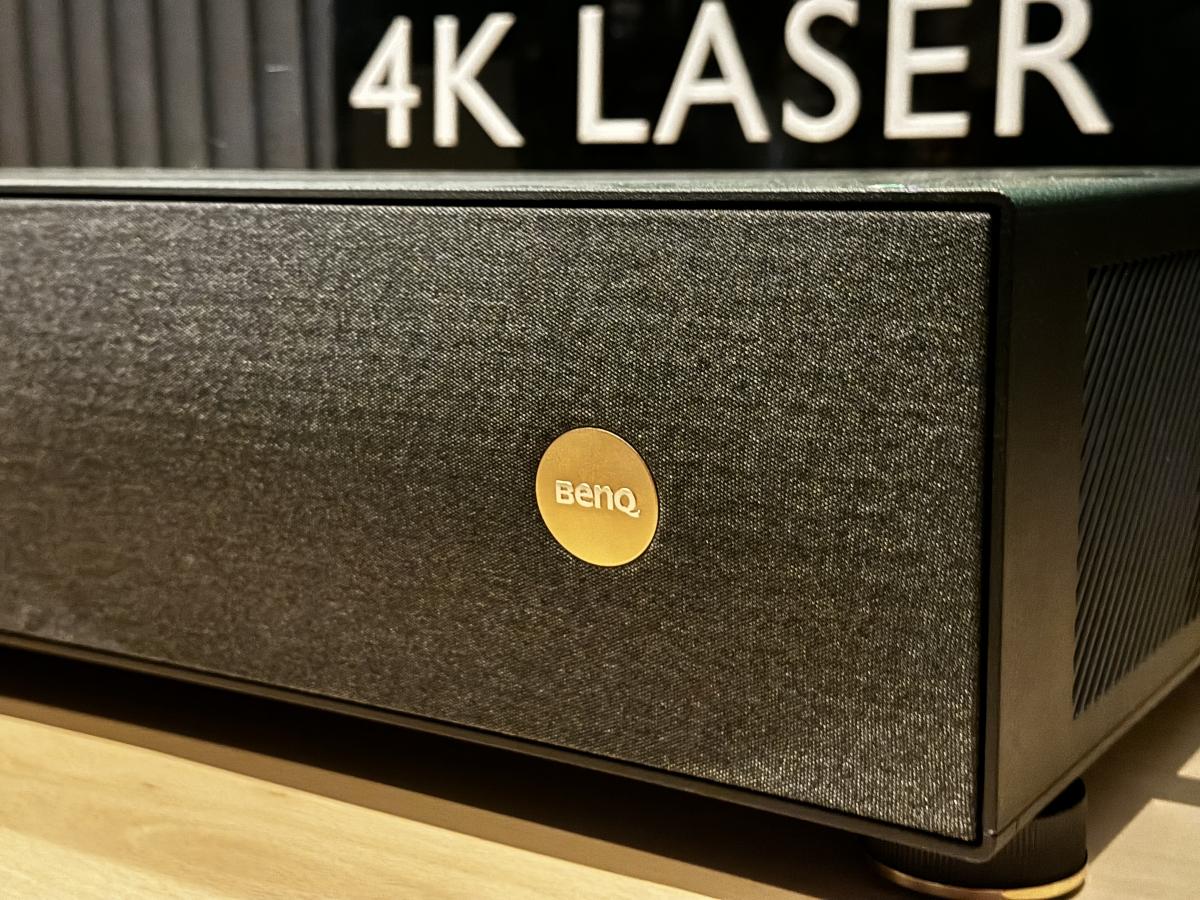 BenQ has made its presence more prominent in the projector space with the introduction of the V5000i, a game-changing 4K RGB Laser TV Projector that promises to redefine the home entertainment landscape. The V5000i offers precision in color reproduction, and good audio quality. International Business Times spent some time with the V5000i during the What Hi-Fi show in Bengaluru and here are our initial impressions as we dive into the features of BenQ's flagship projector.
The V5000i is targeted at the upper middle class households, wherein it elevates the world of home cinema to a whole new level. It is prominently positioned as the ideal alternative to large-screen TVs, especially in well-lit spaces like expansive living areas, it features Google-certified Android TV, seamlessly granting access to popular streaming platforms such as Netflix and Amazon Prime, eliminating the need for external devices. Additionally, this projector supports voice assistants, mirror casting, and offers seamless connectivity via Wi-Fi and Bluetooth.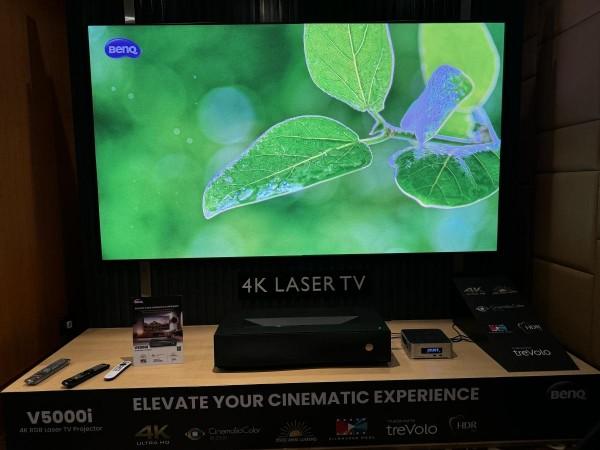 The BenQ V5000i marks its debut in the realm of RGB laser TV technology, ushering in a new era of visual excellence while ensuring a consistent and long-lasting home cinema experience. It achieves this milestone by harnessing the prowess of CinematicColor technology, which adeptly covers an impressive 95% of the BT 2020 color spectrum and 98% of DCI-P3, ensuring a display that immerses viewers in lifelike and vibrant colors that bring their favorite movies and shows to life. Even standing just a few feet away from the screen did not strain the eyes or break those pixels.
But the V5000i offers more than just exceptional visuals; it boasts an integrated 40W speaker system featuring dual 5W tweeters and dual 15W woofers. This audio setup is ideal for homes, but it lacks surround sound superior, which is made up for by deep and powerful bass, enveloping viewers in a truly cinematic audiovisual journey.
Speaking about the new V5000i. Rajeev Singh, Managing Director of BenQ India & South Asia, said, "We are thrilled to unveil the V5000, a revolutionary milestone in home entertainment technology. BenQ remains steadfast in our mission to redefine visual excellence, and the V5000 represents our relentless pursuit of delivering unparalleled experiences. Our dedicated team has spared no effort in exceeding the expectations of our discerning customers. With the V5000 Laser TV projector, we are poised to transform home entertainment, bringing the enchantment of the silver screen directly to our customers' homes. We have unwavering confidence that this latest addition to our lineup will revolutionize the industry."
BenQ V5000i key features:
Color Accuracy: The V5000i achieves an impressive 95% BT 2020 and 98% DCI-P3 color gamut, which was quite evident at the demo. The V5000i ensures faithful reproduction of every hue, which is the result of CinematicColor technology integration, promising viewers images with natural and true-to-life colors. The projector even offers suitable viewing angles of 120-degrees, which should accomodate a large group setting in a living room. We tried to view the projector from different angles, with little distortion and colour degradation.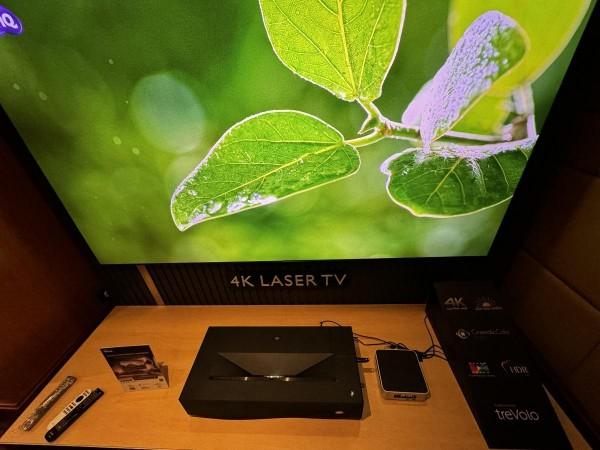 High-Definition Viewing: Equipped with 2500 ANSI Lumens of RGB Laser brightness, the V5000i projector delivers 4K Ultra HD resolution, resulting in vivid and razor-sharp picture quality. The room where the projector was screen was well lit, with a focus light from a camera pointing at the screen. Even at this setting, the resolution or the clarity didn't seem to take a hit. This projector is a game-changer for those seeking a cinematic experience within the comforts of their homes.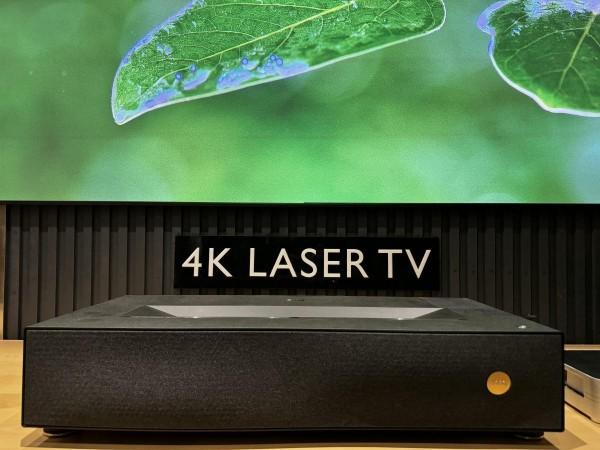 Audio: The audio in the V5000i may not be its strongest suit as you don't get any Dolby integration, but it does come with a built-in Hi-Fi audio system featuring 40W speakers, including 5Wx2 tweeters and 15Wx2 woofers, which sounded fantastic in a closed room. The 2300cc chamber design enhances sound output, delivering superior audio quality with deep, resounding bass.
Smart Entertainment: The V5000i serves as a comprehensive entertainment hub with Google-certified Android TV, which is attached to a port inside the box. This offers effortless access to streaming platforms like Netflix and Amazon Prime, eliminating the need for external devices. This smart projector also supports voice assistants, mirror casting, and connectivity through Wi-Fi and Bluetooth. If you're into gaming, there's HDMI2.1, which can be used to connect your PlayStation and Xbox consoles. While content is played at 60Hz, games can go as high as 120Hz refresh rate, which is essential for console gaming.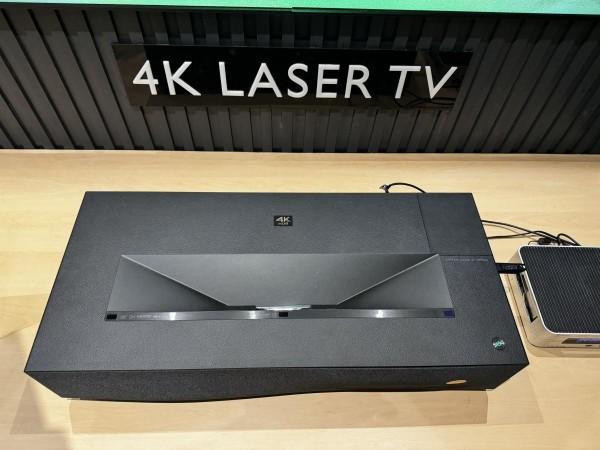 Ease of installation: One of the unique selling points of the V5000i is its installation flexibility. With a throw ratio of 0.252 and options for auto screen fit, manual screen fit, and ceiling mounting (thanks to 2D keystone correction), it adapts effortlessly to diverse room layouts. HDMI eARC compatibility for external 5.1/7.1 speakers adds to its versatility. 
BenQ V5000i is available through all leading retail home AV system integration partners and BenQ online store. It is priced at Rs 5,49,000, which does not include the projection screen. You'll need to shell out extra for the screen, which has to be a recommended 100 inches diagonally.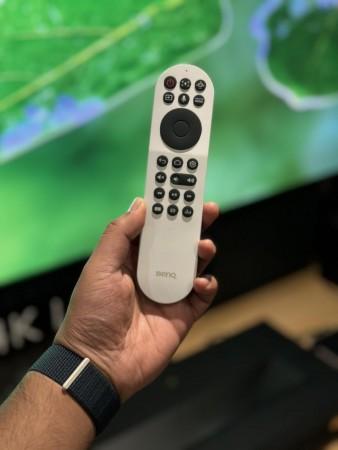 The question remains, is the V5000i by BenQ ready to replace your TV? It depends on your home setup and affordability factor. It is not meant for all homes, but it can surely fit in one if you can afford it. The V5000i has a life cycle of 10 years or 50,000 hours of runtime, with an on-site warranty of 3 years, which works in BenQ's favour. Stay tuned as we dig deeper to find out if this projector can be your next TV replacement. 
About Author