Apple Watch Series 9 Review: Looks can be deceiving
10 min read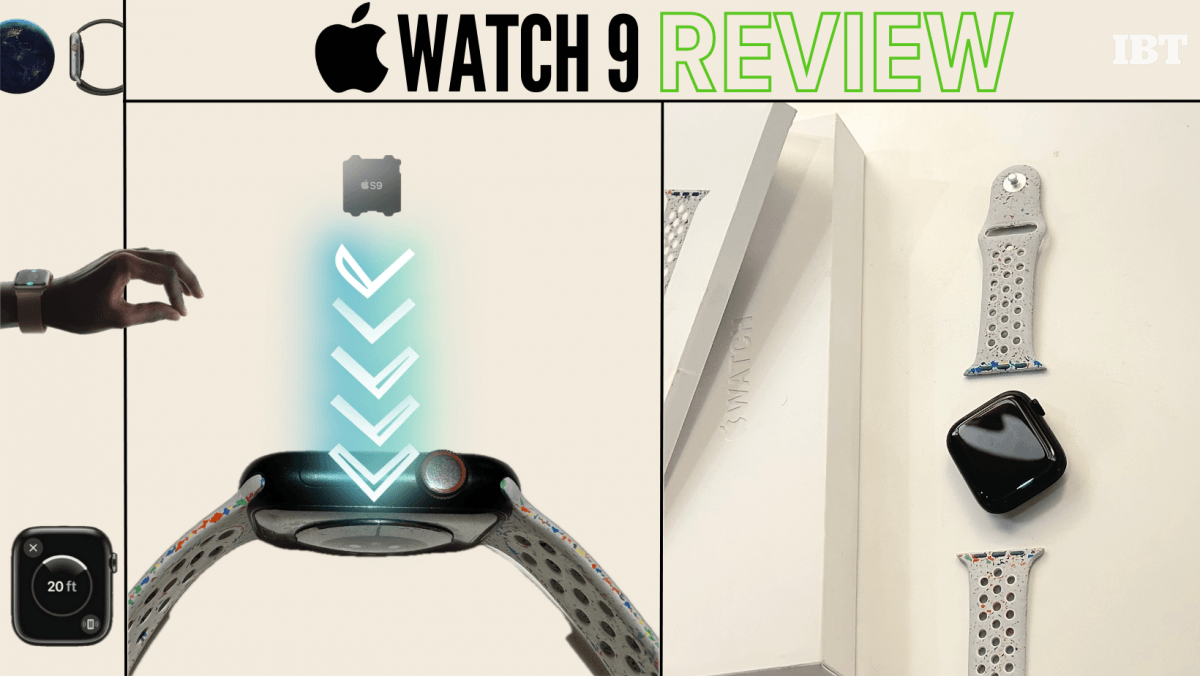 Apple Watch Series 9 was launched alongside the iPhone 15 series last month, where it was dubbed smarter, brighter and mightier. Though carrying the same design philosophy, the Watch Series 9 made strides in some aspects only evident in day-to-day use cases. The uncanny resemblance to the Apple Watch Series 8 or even Series 7 may have come as a disappointment to some, but there's more to it than meets the eye.
Let's dive into the reasons why Apple Watch Series 9 still manages to make an impact after having tested this smartwatch for almost a month now.
Apple Watch Series 9: Features
Display: Always-On Retina LTPO OLED display

Brightness: 1nit (min) to 2000 nits (max)

CPU: S9 SiP

Case: Aluminum or Stainless Steel / 41mm or 45mm

Storage: 64GB

OS: WatchOS 10.1

Connectivity: GPS-only or GPS + Cellular, 2nd-gen Ultra Wideband chip

Colours: Starlight, Midnight, Silver, (PRODUCT)RED, Pink / Gold, Silver, Graphite in SS

Sensors: ECG, Heart Rate, Blood Oxygen, Temperature,

IP: IP6X dust resistance, Water resistance 50m

Battery: Up to 18 hours
Picking the right model
Apple Watch Series 9 ranges from Rs 41,900 to Rs 75,900 starting prices. In between, there are different models and customisation options for you to choose from. The biggest differentiator is the case size, as the Watch S9, like previous models, comes in 41mm and 45mm. Then you can pick one between GPS or GPS and Cellular. The choices do not end there as you can also select the case material to suit your style, with aluminum and steel options.
For those who opt for the 41mm aluminum case, prices start at Rs. 41,900, while the 45mm variant begins at Rs 44,900. If the allure of stainless steel is more your style, the 41mm version starts from Rs 70,900, with the 45mm case setting you back Rs 75,900. Now, you need to pick the right strap for you. For the aluminum case models, you can either pick the new Sport Band or Sport Loop and with the stainless steel models can choose from the Sport Band or the elegant Milanese Loop (the hot favourite).
Note: Apple sent us the Series 9 in 45mm case size and Midnight colour with a Sport Loop (Rs 54,990). Oh, there's also a Nike Sport Band worth Rs 4,500. If you like what you see in the product shots below, this whole package is worth Rs 59,490.
Familiar design with a touch of finesse & sustainable
The new Apple Watch Series 9 brings with it a sense of continuity in terms of design, albeit with a few notable refinements. While it may not deliver a radically new look, the Series 9 continues the design legacy we've grown to be fond of in the Series 7 and Series 8.
From a cosmetic perspective, there's little to distinguish the Series 9 from its predecessors. Why fix it if ain't broken? This design continuity ensures long-time Apple Watch users feel right at home with their new timepiece. The bezels surrounding the Series 9's display remain consistent in size, and those mild curved edges give an edge-to-edge feel and look to the watch.
One noteworthy environmental aspect is Apple's commitment to sustainability. Yes, that powerful ad at the launch event starring Octavia Spencer, Tim Cook and others, stuck with me and the Series 9 is a testament to the efforts Apple has taken on the sustainability front. For instance, the aluminum case is constructed using only recycled materials, marking a notable stride toward a more eco-friendly smartwatch. This green initiative extends to the accompanying Sport Loop strap, which, when paired with the aluminum case, is hailed as a carbon-neutral product by Apple.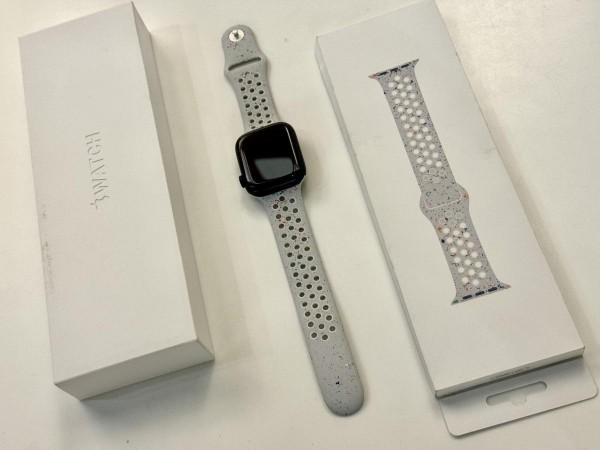 Having used Apple Watch over many generations, one thing is clear, Apple doesn't compromise on durability. It remains a hallmark of the Apple Watch Series 9. The watch is resistant to scratches and bears daily the wear and tear with ease, thanks to the ion-X strengthened cover glass. In addition to that, the Series 9 has IP6X certification for dust resistance and it is water resistance depth of up to 50 meters. So take that watch to your next swim and track your laps with peace of mind.
One thing that's changed and not highlighted at all is the magnetic fast-charging adapter, complete with a braided cable. This enhances both durability and user experience, though the braided cable easily picks up dirt but it's better than having to deal with chipped wires.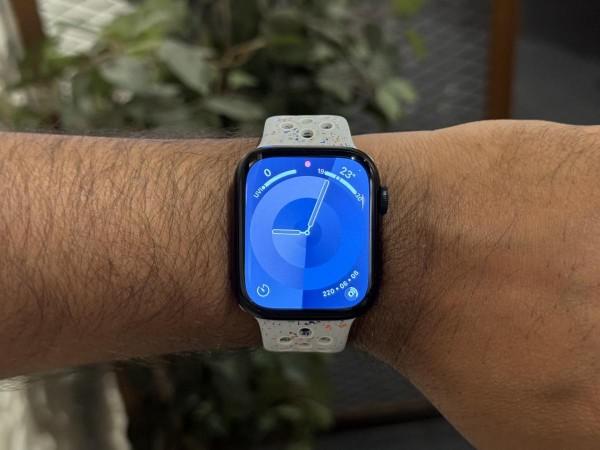 The highlight of the Apple Watch Series 9 is a familiar 1.9-inch Retina LTPO OLED display with a resolution of 484 x 396 pixels. It can go as low as 1nit and as high as 2,000 nits peak brightness, which ensures strain-free readability even under direct sunlight. Between Always-on Display and peak brightness, Apple Watch Series 9 exudes brilliance. The swift and accurate response to touch and gestures remains unmatched. A big part of the display, or rather its functions, is the Digital Crown with satisfactory haptic feedback, which works with such elegance, it's like tap dance on a wood floor — fun and engaging. The side button has its own use, and plays an important role. The action button remains exclusive to the Ultra model, a feature I hoped to see in this year's vanilla Apple Watch.
The Gyan Mudra pose
Introducing the Gyan Mudra pose (look it up). That's what I'm reminded of when Apple introduced its Double Tap feature. Quite frankly, I was intrigued and have been playing with it since it came out in the beta version. And now that it's publicly available, anyone with an Apple Watch S9 or Watch Ultra 2 can enjoy it. This novel feature marks a departure from the standard repertoire of gestures on this watch. It's in the name, the Double Tap feature is activated by a quick double-tap of your thumb and index finger (the Gyan Mudra pose). With it you can execute various actions, such as dismissing notifications, pausing timers, or accessing widgets directly from the watch face. Essentially, it can serve as a versatile shortcut to streamline your interaction with the watch. And I didn't realise just how useful this feature is until I started using it regularly.
Apple Watch users familiar with the AssistiveTouch accessibility mode may recognize a semblance with a similar gesture. But it's not the same. You ask, how? The "Double Tap" is seamlessly integrated into the Series 9's user interface, making it universally accessible across the device. It is engineered to operate all the time, but the best part is that it doesn't take a toll on the battery. In contrast, the pinching gesture, part of the watch's accessibility options, offers customization as per individual needs.
The "Double Tap" feature gets some getting used to, but it won't take long. Once you get a hang of it, this feature can be harnessed for a variety of tasks. A simple, single-hand gesture swiftly dismisses notifications, halts timers, and even sends text messages with hands-free convenience. I've been using it all the time, like while riding a bike, or while grocery shopping or doing chores.
What I love the most about this feature is how it enables voice dictation for responding to text messages, all without physically touching the watch. In many busy moments where you cannot touch your Apple Watch, the convenience of interacting with your Apple Watch through voice commands is just invaluable.
While "Double Tap" is still limited to certain screens and functions, but its promise lies in the hands-free interaction it offers. And with time, it's likely to be expanded into more functions so it can become a seamless part of daily use. I wish Apple had given the option to enable Double Tap without having to raise the wrist. But again, this avoids accidental prompts, something you will face with the AssistiveTouch accessibility mode.
Where performance meets efficiency, health & beyond
Internally, the Watch Series 9 is powered by the S9 SiP (System in Package), equipped with an enhanced neural engine. This advancement facilitates swifter interactions with Siri, streamlining voice commands and responses. Common tasks can now be executed onboard, reducing the need for continuous phone and internet connectivity. This makes a significant improvement in day-to-day use. For instance, certain queries that don't require an internet connection for a response are now processed directly on the watch itself. Setting alarms or timers are done instantly, without an internet connection. Siri has also gotten better with the Series 9 with improved dictation accuracy so you don't have to repeat yourself again.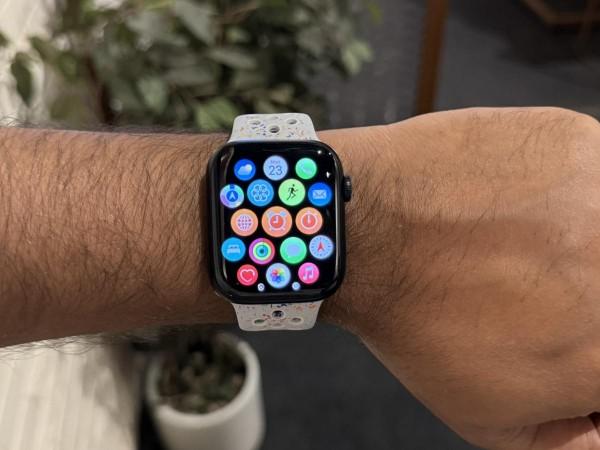 As for the day-to-day operations, Apple Watch Series 9 is as smooth and efficient as a wearable can get. The apps are swift to launch, gliding through the menu is smooth, and the new Smart Stack is pretty nicely executed.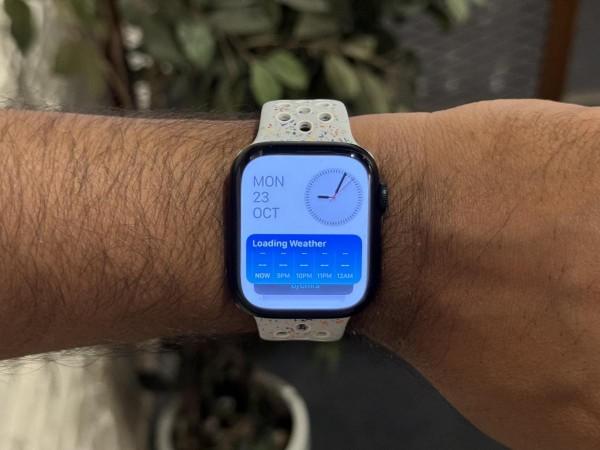 The Smart Stack is an assembly of widgets and conveniently appears as you scroll through with a simple twist of the digital crown after waking the screen from the default watch face. Accessing the Control Center is more refined and it simply requires you to press the side button. Indeed, watchOS 10.1 offers a fresh façade while keeping the watch's physical design consistent. It's clear that the Apple Watch interface now aligns more closely with what iOS offers and this continuity is welcomed.
Among the highlights of the new WatchOS are four fresh watch faces, each offering its unique charm. Do try that Snoopy face, which has some cool animations. The Solar Analogue and Palette faces bring look elegant while the new Nike Globe face is a remarkably useful.
1/2
Apple Watch Series 9 reviewIBT

Apple Watch Series 9 reviewIBT
On the health and fitness tracking front, the Series 9 retains its robust suite of sensors, including the blood oxygen sensor, electrical heart sensor, and a third-generation heart rate sensor (debuting with the Series 8). These sensors enable comprehensive health monitoring, while the inclusion of a second-generation ultra-wideband chip (UWB) adds immense value. This UWB chip serves practical purposes such as locating a misplaced iPhone and it is the most noted upgrade in practical sense for those who keep forgetting where they kept their phone.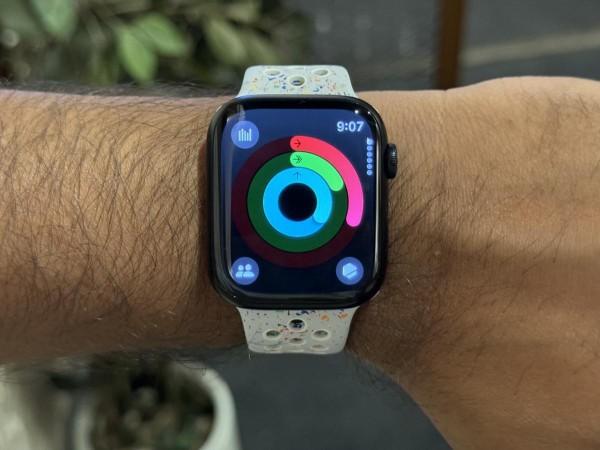 The Series 9 does effective tracking with accuracy. Sleep tracking, including sleep stages introduced, continues to deliver reliable results. SpO2 is getting more accurate, though it is not used as frequent as it was during the COVID pandemic. Heart rate monitoring is consistently spot on and I often find it useful in my daily activities. At times, the watch would alert me if my heart rate was spiking sans activity. It is features like these that make this an absolute necessity for someone with a history of heart condition. As I restarted my evening walks, the GPS tracking came in extremely handy. I wouldn't hesitate to leave the iPhone behind and still get accurate tracking. This is a boon for hikers.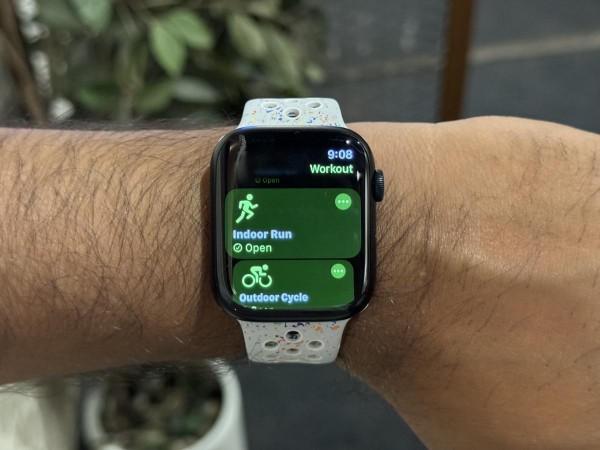 The Series 9's connectivity is on point, as it supports dual-band Wi-Fi and Bluetooth 5.3. But I haven't been more excited about anything as basic as storage in a long time, but doubling of internal storage to 64GB in the Watch Series 9 is one major reason why this watch makes more practical sense to me.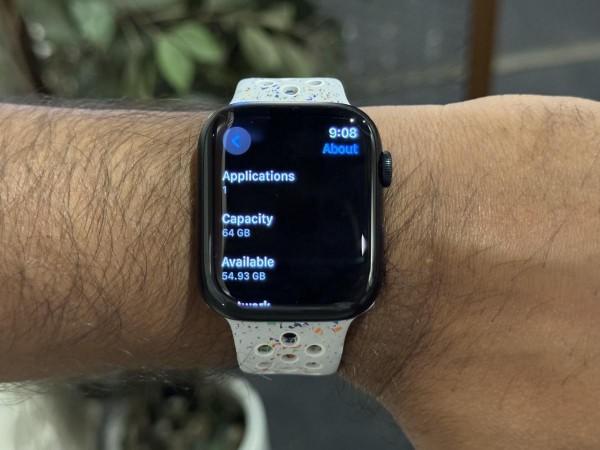 Speaking on connectivity, I often used the Watch to answer calls when I'm in middle of tasks. In closed spaces, the speaker is loud enough, but in open or busy spaces, you'd have to get the watch closer to your ear making an awkward hand position to listen to the other person. On the plus side, the caller on the other end of the line hasn't had any issues listening.
Battery life
With the always-on feature available, there's little reason to switch it off, as it proves quite useful for quick glances at the watch face. But even without the AoD, I managed just fine since the screen wakes up almost instantly when the wrist is raised. Even with many upgrades, Apple managed to keep the battery life promise at 18 hours with normal use. In real world, with all the notifications, automated health tracking, and exercise tracking enabled, the Watch Series 9 comfortably provides about 1.5 days on a single charge. At times, I even got 2 days battery without power saving mode. And if you use the power saving mode, you can comfortably get by two full days.
There's not a notable upgrade in the charging speed as it remains consistent with previous models. The magnetic charger, now with USB Type-C, can power up 65 percent in just half an hour and completing a full charge in one hour. That's not bad at all.
Verdict
In conclusion, while the Apple Watch Series 9 may not introduce a revolutionary design overhaul, its got everything you're looking for in a smartwatch and some more. The sustainability efforts, durability, enhanced display brightness, improved performance, and expanded storage are some practical reasons why the Series 9 makes sense. Upgrading from Series 8 may not be recommended, unless you're looking to enjoy some of those exclusive features, but it makes complete sense if you're coming from an older model like Series 5 or Series 6 is commitment. After all, Apple's seamless transitions in the software, efficiency in tracking useful health parameters and eco-conscious design make the Series 9 an enticing choice.
About Author