Apple Watch Series 8 long-term review
9 min read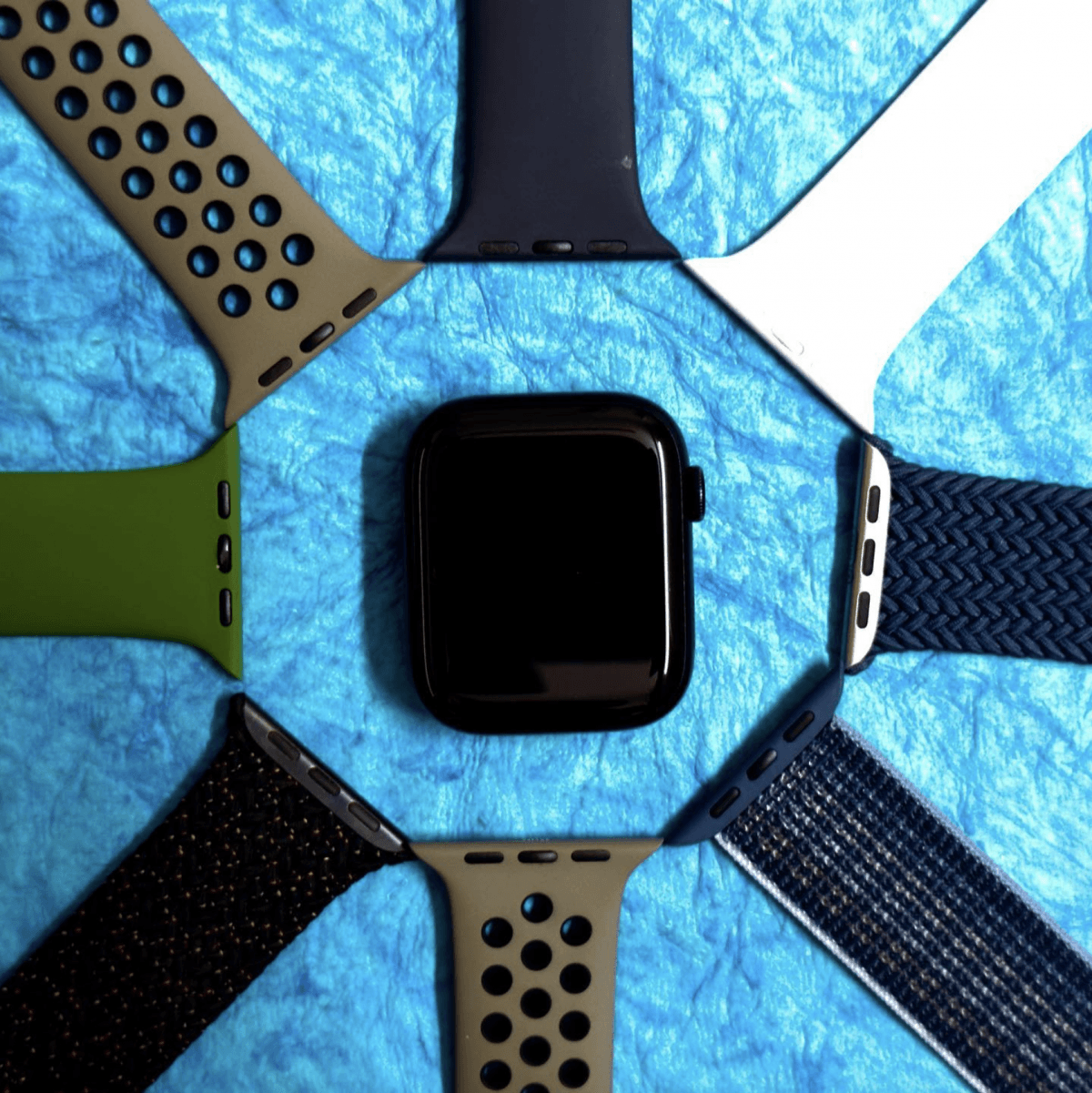 Apple has confirmed its mega fall event, where it will be launching the latest iPhones and Watch editions, on September 12. This has fans excited and in sheer anticipation, but let's revisit one of the 2022 Apple products that make total sense even as the successors are in the offing. Apple Watch Series 9 is bound to bring some notable improvements, but the Apple Watch Series 8's impact in the wearable space is one with strong merit.
Apple Watch Series 8 continues the legacy of excellence set by its predecessors, offering an array of features and improvements. This smartwatch seamlessly integrates into your daily life, keeping you connected, organized, and motivated to stay active and healthy. But so does every other Apple Watch, right? There's more. In this long-term review, we'll delve into the health and fitness aspects of the Apple Watch Series 8 and how it can help you lead a more balanced and mindful lifestyle. Over the months, we've also learned how the Apple Watch slyly sneaks into your daily habits, making it so that leaving home without it feels incomplete. 
Design and Build
Apple makes no compromises when it comes to its products' design and quality. The Apple Watch S8 is no exception. It showcases a sleek and stylish design with a larger, always-on Retina display that offers better readability and adds a touch of elegance to your wrist. The lightweight yet durable aluminum, stainless steel, and titanium casings ensure it can withstand the rigors of an active lifestyle. The new assortment of vibrant colors and interchangeable bands allows you to personalize the watch to match your taste and outfit.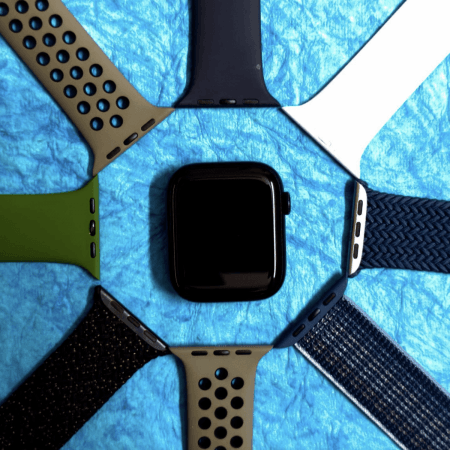 Embrace the Apple Watch Series 8, whether you opt for the 41mm or the 45mm variant; the comfort it offers throughout the day and night is undeniable. For those keen on sleep tracking, rest assured, this timepiece is a reliable companion. Its snug fit on your wrist, coupled with a WR50 waterproof rating granting submersion up to 50 meters, eliminates discomfort concerns with any band choice. And we tried with a bunch of them. 
The edge-to-edge display, blessed with an always-on feature, boasts peak brightness reaching a staggering 1000 nits. This ensures crystal-clear visibility, even in the sunniest of environments. No more squinting at text messages or fumbling to locate your favorite app while on the move. The iconic digital crown retains its excellence, offering a tactile sensation unmatched by any other. The second-generation microphone, flanked by a physical button on the right, is thoughtfully placed. Meanwhile, a powerful speaker on the left enables effortless call answering in enclosed spaces.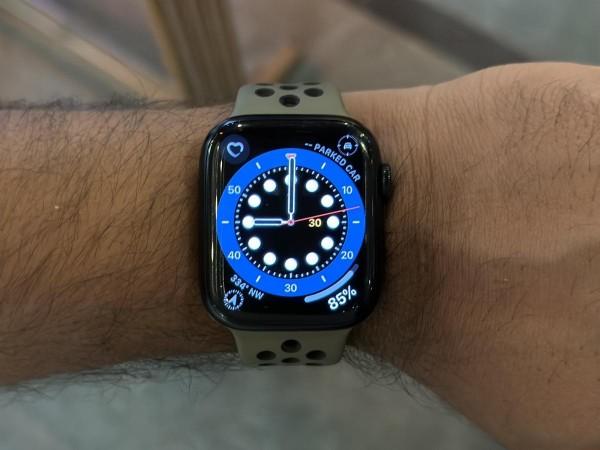 With a 20 percent larger screen than its predecessor, the Series 8 doesn't shy away from the practicalities. The QWERTY keyboard on this compact display isn't a mere gimmick; rather, it's a genuinely handy feature that finds its way into our daily routine. While the Always-on Display is undoubtedly a valuable attribute, our willingness to trade it for prolonged battery life speaks to the smart choices the Series 8 offers.
Having used extensively, there has been no sign of wear and tear or aging. It still looks fashionable and it has to be the most durable Apple Watch yet, of course, tailing behind the Apple Watch Ultra. 
Health and fitness
Apple Watch Series 8 features enhanced heart rate sensors that provide more accurate readings, even during intense workouts. It can also alert you if your heart rate is too high or too low, which can be a crucial feature for detecting potential health issues. Over the months, we got high heart rate reading while resting, which was a trigger to get a medical opinion. Though everything was fine, those little prompts keep you informed. If a person has a history of heart condition or it runs in the family, the heart rate tracking in the Watch S8 is an absolute necessasity. 
1/2
Apple Watch S8 reviewIBT

Apple Watch S8 reviewIBT
Taking a step further, the Series 8 continues to support ECG functionality, enabling you to take an ECG anytime, anywhere. This feature has been lauded for its ability to detect irregular heart rhythms and provide early warnings of potential heart conditions. Whenever we got high heart rate prompts, our next move was to run an ECG on the watch. Though we didn't get any AFib readings, it did a great deal of help having this feature handy rather than having to run to the hospital. 
Ever since the COVID-19 pandemic, the need and importance to keep SpO2 in check has grown. With Apple Watch S8, you get the feature inbuilt, eliminating the need for an additional device. Even the accuracy of the SpO2 tracking is on point. It provides valuable insights into your respiratory and circulatory health. But what really makes the difference here is that you can share your stats with your health provider with ease.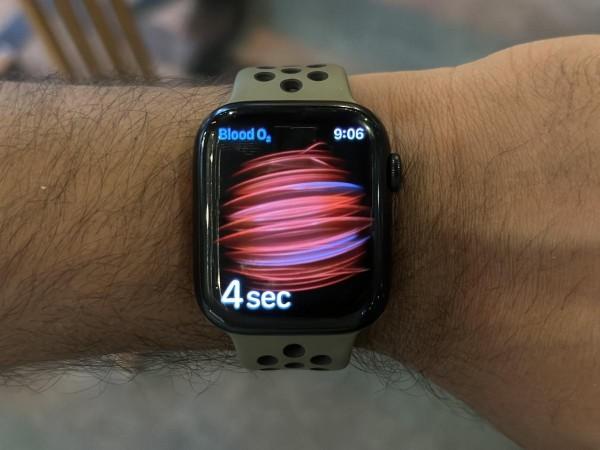 But women users have a good reason to invest in the Apple Watch S8. The night-time wrist temperature function is a game-changer. Apple claims that this little gadget can actually give you insights into your overall body temperature by monitoring your wrist temperature during sleep. It's pretty cool how the sensors onboard sample your wrist temperature every five seconds and can detect changes as tiny as 0.1 degrees Celsius.
It takes the watch around five nights to establish a baseline wrist temperature, and then it starts keeping an eye out for any changes during the nights that follow. To get the retrospective ovulation estimates, you've got to have both Cycle Tracking and Sleep Tracking turned on. So, make sure to keep those toggles active.  In a nutshell, Apple is really taking family planning to the next level with these retrospective estimates. It's an exciting feature that's got my nod of approval, especially since all the data stays right here on my wrist.
Closing the loop on the health tracking, Apple improved the sleep tracking capabilities in the Series 8. The watch uses its accelerometer and gyroscope to monitor your movements during sleep, providing comprehensive data on sleep duration, sleep quality, and sleep disruptions. Armed with this information, you can make informed decisions to improve sleep patterns. 
There's more…
The Series 8 comes with mindful breathing exercises that encourage you to take a moment to relax and focus on your breath, reducing stress and promoting overall well-being. It also tracks your stress levels throughout the day, providing insights into when you might need to take a breather. This feature is highly underrated and it helps with regular use overtime. It is strongly recommended. 
The fall detection feature can detect if you've taken a hard fall and automatically call emergency services if you remain unresponsive. This can be a life-saving feature, especially for older adults or those with medical conditions. We didn't have to give this feature a try, but it is proven to work effectively. 
Motivation to stay fit
Daily activity tracking:
Apple Watch S8 tracks daily activity levels, including steps taken, distance covered, and calories burned. The activity rings provide an intuitive and motivating visual representation of your progress throughout the day. Our regular walks helped keep a track of the progress we've made and the motivating prompts on days we skipped gave a boost to our commitment to stay fit. What we loved about the tracking is that it automatically detects activity and prompts tracking. When you choose to track, it picks up from where you started rather than from the point you choose to track. 
1/2
Apple Watch S8 reviewIBT

Apple Watch S8 reviewIBT
Workouts and exercise tracking:
Beyond walking and jogging, running, cycling, swimming, or any other activity can be tracked with the Series 8. There are a wide range of workout tracking options, and the watch's GPS accurately records your outdoor exercise routes. This is really helpful in trekking, whilst enjoying the wilderness.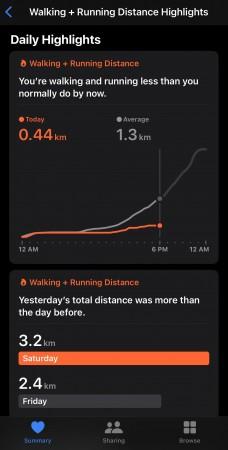 Finally, the Fitness app on the iPhone shows long-term trends and insights from health and fitness data, helping you set achievable goals and stay on track. Having tracked activity over the past year, these statistics truly give an in-depth understanding of our progress and achievements. It's also shareable, so you can keep your friends informed of your progress.
Take a stand:
Sitting for prolonged periods can negatively impact your health. The Series 8 reminds you to stand up and move around regularly throughout the day, promoting better circulation and reducing sedentary behavior. In fact, one thing we've been consistent with is closing the standing rings over the past year. That's something we're incredibly proud of. 
WatchOS 9
The watchOS 9 may not be exclusive to Apple Watch S8, but it sure was the first one to come with it. With its nifty features and upgrades, it is undoubtedly best wearable skin out there. You can create custom workout routines, add sleep stages, see heart rate zones in real time during exercises. But on top of it all, there are many cosmetic upgrades like super-cool watch faces, which add a new flavour to the watch every single time, redesigned Compass app for better visuals and using the Digital Crown to get more details of elevation, long-lat, etc. The steps track back feature is a life-saver, as you can trace back your steps to the point of origin. 
1/2
Apple Watch S8 reviewIBT

Apple Watch S8 reviewIBT
But there's a whole lot of stuff you can do with the watchOS 9, like use the Medications app to get reminders, adding events to calendar from the wrist, and more. What's more exciting is that watchOS 10 has a bunch of new features too and the S8 will get it soon.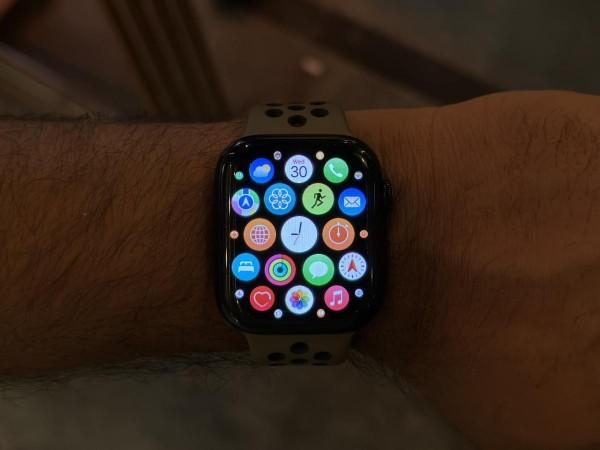 Battery 
When we started out, we needed time to adjust, so did the watch. But once the watch was trained and we got a hang of how things work on the battery end, it was more of a muscle memory from there on. The Apple Watch S8 easily lasts two days on a single charge with full activity and usage and still have some juice left. With the new power saving mode, we could easily add few more hours if there was no charger around. 
The magnetic puck makes things so simple. Just place it and it automatically connects to start charging. In an hour, the watch is fully charged to be used for two more days per our usage. Unless we had to travel and while on road, the power saving mode came in real handy. With 24-hour constant use, the watch can be left with some 20% to spare. Sure, there are fitness trackers with far more battery life, going on for days, but what Apple Watch S8 offers in terms of more than just health tracking and fitness, the two-day battery life is acceptable.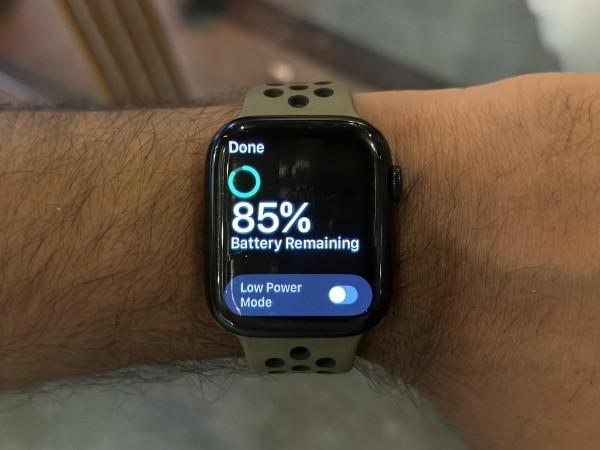 Conclusion
The Apple Watch Series 8 is undeniably a perfect companion when it comes to health and fitness. With its advanced health monitoring features, comprehensive activity tracking, and seamless integration with other Apple products, it has firmly established itself as the ultimate health and fitness companion. Whether you're a fitness enthusiast, health-conscious individual, or someone looking to make positive lifestyle changes, the Apple Watch Series 8 will undoubtedly aid you in achieving your goals and leading a healthier, more balanced life. But that's not it. Given the seamless integration with other Apple products, the Watch Series 8 is well suited for those who are not into fitness, but would like to stay aware of their health parameters but more importantly take advantage of the seamless connected ecosystem.
So who is it for really? Any and every iPhone user, but if you already have a Series 4 or 5 model, this one is highly recommended. But it also makes sense if you are split between Apple Watch SE or the S8. Basically, Apple took its best smartwatch and made it better so there's no room for complaints. This is considering a new Apple Watch series launch is just around the corner. You can consider the S8 after the Watch S9's launch just to get that pricing advantage. Apple Watch S8 comes in two variants, GPS and GPS+Cellular, starting at Rs 45,900 and Rs 55,900, respectively. 
About Author