Apple Launches Enhanced 24‑inch iMac with M3 Chip, Elevating All-In-One Experience
4 min read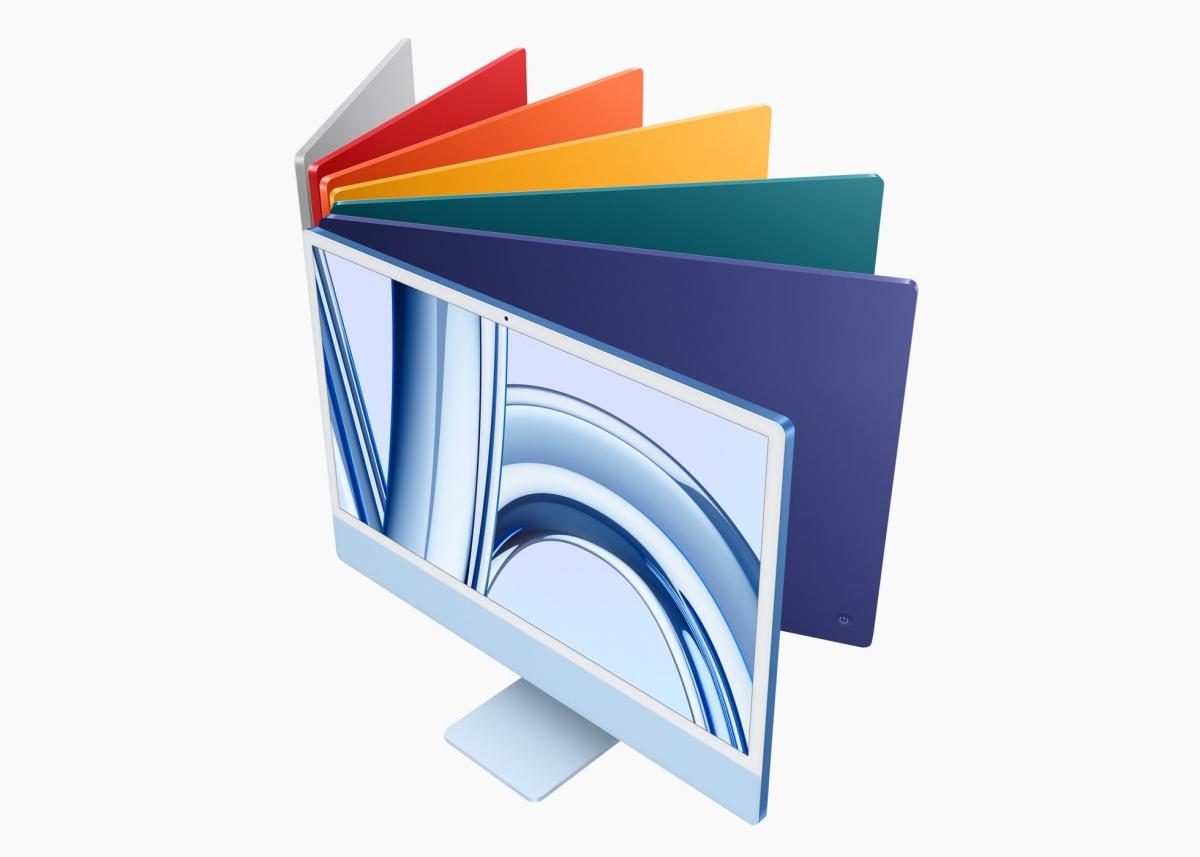 In another announcement this year, Apple introduced the new 24-inch iMac, powered by the latest M3 chip, setting a new standard for all-in-one computing. Designed to enhance performance, this sleek and vibrant iMac boasts significant improvements powered by Apple silicon, making it up to 2x faster than the previous generation with M1.
The iMac with M3 redefines the desktop computing experience, offering a range of striking colors and featuring an expansive 4.5K Retina display with over a billion colors, increased wireless connectivity, and seamless integration with iPhone. The product, combined with its exceptional camera, speakers, mics, and macOS Sonoma, caters to a broad spectrum of users, including families, small businesses, creatives, students, and gamers.
The new iMac is available for orders starting, with availability commencing on Tuesday, November 7. The new 24-inch iMac with M3 starts at Rs 134,900 for the 8-core GPU model and Rs 129,900 for the education edition. The 10-core GPU model starts at Rs 154,900 and Rs 144,900 for the education edition.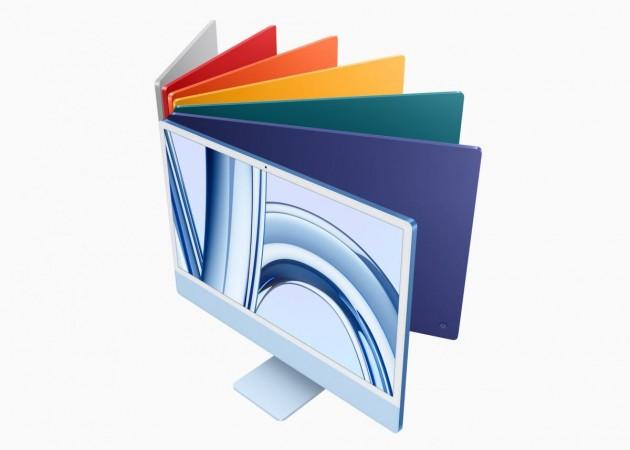 John Ternus, Apple's Senior Vice President of Hardware Engineering, expressed his enthusiasm, saying, "We're excited to give iMac a big boost in performance with the M3 chip. The new iMac with M3 is incredible for anyone, especially those who haven't yet upgraded from Intel, providing a giant leap in performance and capabilities only possible with Apple silicon."
The M3 chip features an 8-core CPU, up to a 10-core GPU, and support for up to 24GB of unified memory. It's up to 2x faster than the previous generation with M1, offering a rapid and efficient experience across tasks like multitasking and content creation, Apple said.
The next-generation GPU of M3 brings hardware-accelerated mesh shading and ray tracing to iMac, enhancing gaming experiences and speeding up three-dimensional design and creation. The inclusion of a 16-core Neural Engine and the latest media engine means iMac delivers outstanding machine learning and video performance.
iMac enhances productivity for small businesses, students, gamers, and everyday consumers. It outperforms the previous-generation 24-inch iMac in various areas:
Safari is up to 30 percent faster.

Productivity apps like Microsoft Excel perform up to 30 percent faster.

Games load faster, with up to 50 percent faster frame rates.

Creatives will find the new iMac perfect for editing and playing back up to 12 streams of 4K video, producing video projects in Final Cut Pro and Adobe Premiere Pro up to 2x faster, and processing photos in apps like Adobe Photoshop up to 2x faster.
Intel-based upgraders will appreciate the substantial difference in performance and features offered by iMac with M3. They will experience 4x faster performance than the most powerful 21.5-inch iMac model, and up to 2.5x faster performance compared to the most popular 27-inch iMac models. This new iMac boasts the immersive 24-inch, 4.5K Retina display, leading camera, speakers, and mics, and the advanced technologies of Apple silicon, including the option to choose Touch ID.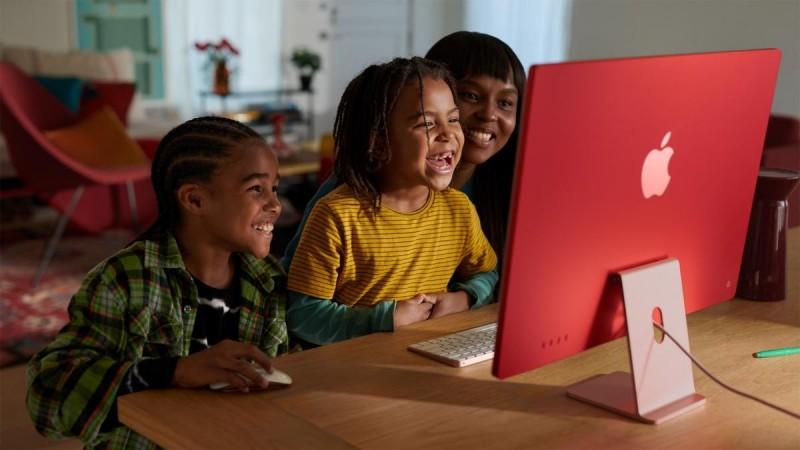 New iMac customers will see up to 4x faster performance than the bestselling 24-inch all-in-one PC with the latest Intel Core i7 processor. The 4.5K Retina display features 5x more pixels than the bestselling 24-inch all-in-one PC. The migration process is made simple through Migration Assistant, enabling users to work effortlessly between their iPhone and other Apple devices.
The new iMac features an industry-leading 4.5K Retina display with over a billion colors, advanced connectivity, and a top-of-the-line camera, speakers, and mics, all in a remarkably thin design. Some of the standout features include:
Expansive Retina display: A 24-inch, 4.5K Retina display with 11.3 million pixels, a P3 wide color gamut, and 500 nits of brightness.

Advanced connectivity: Wi-Fi 6E for faster downloads, Bluetooth 5.3 for the latest accessories, and up to four USB‑C ports, including two Thunderbolt ports.

Camera, mics, and speakers: A 1080p FaceTime camera, studio-quality mics, and a six-speaker sound system with Spatial Audio support.

Standout design: Available in a spectrum of seven vibrant colors and a thin, all-in-one design measuring just 11.5 millimeters.

Color-matched accessories and Touch ID: The iMac comes with color-matched keyboard, mouse, and trackpad options. Users can also choose a Magic Keyboard with Touch ID for added security and convenience.

Better together with iPhone: The iMac offers a seamless experience with iPhone and other Apple devices for enhanced productivity.
macOS Sonoma introduces a range of new features that improve work and leisure. Widgets can be placed directly on the desktop, video conferencing becomes more engaging with Presenter Overlay and Reactions, and Safari benefits from new updates for an enhanced browsing experience. Game Mode offers better gaming performance with higher frame rates and reduced latency.
Finally, the iMac with M3 is designed with environmental sustainability in mind, using recycled materials, rare earth magnets, and recycled tin soldering. It's free of harmful substances and uses recycled wood fiber in its packaging. Apple is committed to its environmental responsibility and aims to be completely carbon neutral across its operations, supply chain, and product life cycles by 2030.
About Author